The Global retail E-commerce Market is set to cross 4.2 Trillion Dollars in 2020 and will continue to steadily grow over the next few years due to various factors such as simpler user interface to help ease the customer's journey, large variety of products, more convenience, saving transportation expenses, higher discounts, etc. To further add to its advantages, online shopping allows consumers to practice social distancing and help avoid the spread of the Coronavirus (COVID-19).
Despite the numerous benefits that online shopping provides consumers, a large portion of customers still shops in retail stores as they prefer to see and feel the products in person and have the chance of personal interaction when they buy their products particularly their groceries. In addition, certain consumers require groceries immediately to help run their households during these dire times.
Therefore, in these dire times it is important to follow the strategies below when you go for shopping at markets:
Maintain Social Distancing:
A person is less likely to breathe in cough and sneeze droplets of another person infected by the coronavirus if they maintain a distance of at least 1 meter (3 feet). If you are shopping with a person try walking in a single line.

Book your Appointment:
Research the supermarkets that are near your home and find if they have online appointments and ticket-on-the-go for you to book an appointment for grocery shopping, a feature recently available at stores due to increase in customer traffic. This will help you to avoid long queues and reduce the time it takes to enter the supermarket itself.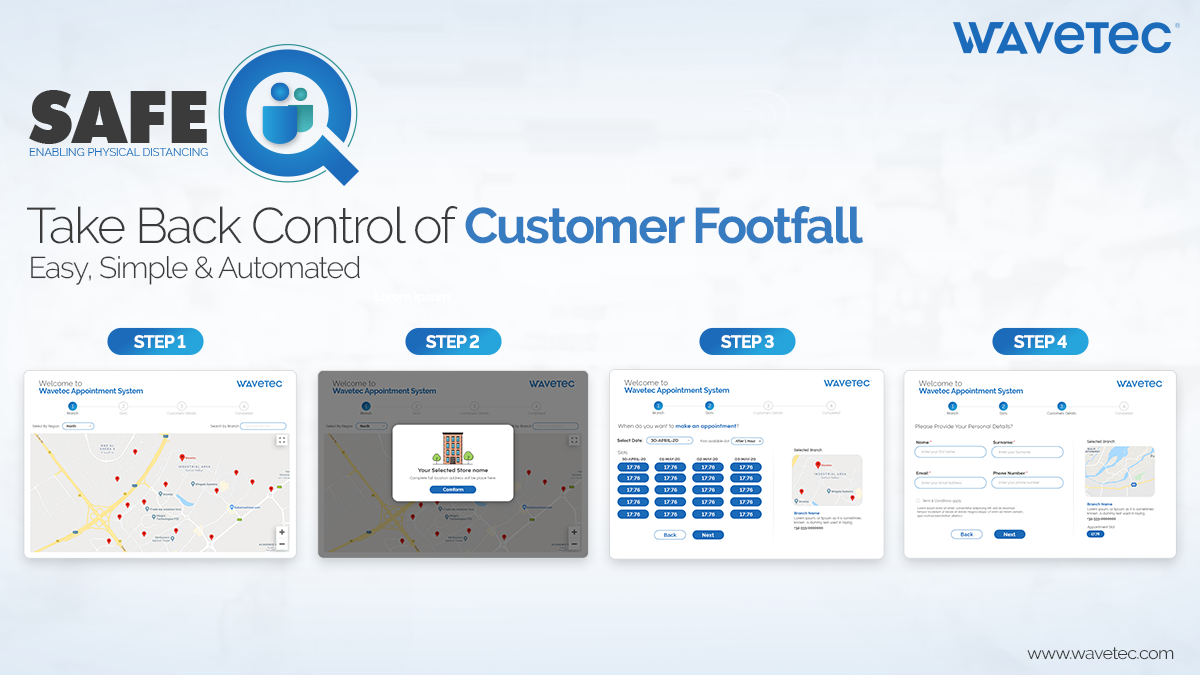 Arrival
Appointments
If you have arrived earlier than your appointed time, you have the luxury of waiting in your car while you wait. If you do not have an appointment, then join the walk-in line. Appointment scheduling platform provides your customers with a portal to book an appointment online, and enables you to track and manage those appointments.
The people standing in the queue will move inside the supermarket every time the supermarket will be below the occupancy limit (The maximum number of people allowed within the supermarket to control the spread of COVID-19).
The management of the queues might be done digitally through people counting cameras and a screen that will automatically pop up a message that will allow you to enter the store or a message telling you to wait.
Assisted Model
The other way the queue might be managed will be by members of the supermarket, who will try their best to match the occupancy limit within the market.  The best way to reduce your time in the queue is to shop at the earliest hour when the customer traffic is low.
Follow the Rules:
Each large market you are likely to visit will have a set of rules for you. If you are unaware of the rules of your shopping, they are likely to be constantly announced throughout the stores and would be showcased on the store's digital signage.
Shopping at Alternatives:
Shopping does not necessarily have to be conducted at large shopping malls or supermarkets. If you can shop at the smaller grocery stores, go to your local farmer, or ethnic markets. The main goal should always be to avoid crowds as much as possible and reduce the time you spend in queues.

**For Precautions please wear a face mask, gloves, and carry hand sanitizers with you. If you are sick or showcase symptoms of the coronavirus, please contact your local doctor or hospital immediately and visit them instead. For more information regarding protection, safeguarding oneself, symptoms and more please visit WHO or CDCs Websites**.

References:
https://www.retaildive.com/news/why-most-shoppers-still-choose-brick-and-mortar-stores-over-e-commerce/436068/
BOOK A FREE DEMO