In This Blog:
Why is patient satisfaction important?
How best can it be achieved?
In the wake of the Covid19 pandemic, healthcare institutions like hospitals, clinics, pharmacies, laboratories, vaccination centers, etc. have all been forced to evaluate their practices, the journey flows they facilitate and the standards of service they hold themselves to. With so much at stake, there is very little room for error.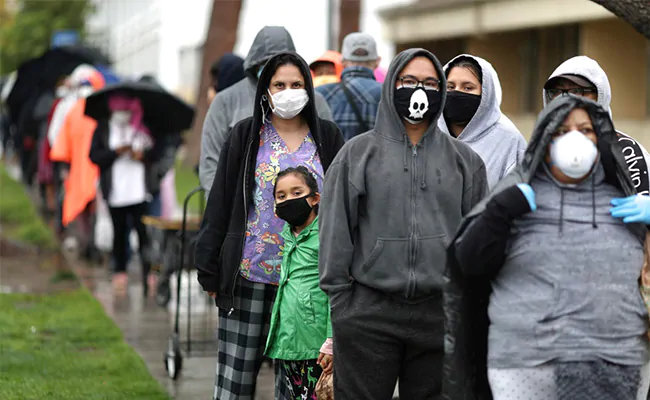 43% of patients state that wait times are the most frustrating part of visiting the doctor's office. While 53.2% state that knowing how long they waited and how much remains helps manage their expectations and improve their visit. The statistics speak for themselves!
Happy patients, happy staff, happy management, happy world? Is it really as simple as that? The answer is yes! For such essential services, it is key that the utmost care be taken, the most innovative technologies and processes be deployed and attention to detail be prioritized.  And the high patient satisfaction scores will come rolling in!
What do Patients Want and Need?
Patients want to be treated well. They want to be sure that they can trust their health and lives in the hands of capable doctors, staff and healthcare management. They want their experiences to be safe, technologically supported and of a quality that makes them feel valued and important.
For this, they need optimized service area flows, clear directions and transparency of information, and peace of mind.
These are the factors that patient satisfaction is premised on. The gap between the quality of care that they expect to receive and what they do receive will dictate how satisfied they are with the level of service delivery and further go on to impact healthcare success metrics.
Why Should Patient Satisfaction Matter to Healthcare Providers?
Higher levels of patient satisfaction have many benefits. It is an indication that the operational strategy being followed is working and that the quality of care being provided is of a high enough standard. Patient centered healthcare provision results in the following:
Increase patient retention and loyalty
Lead to higher profits and return on investment
Improve the results of treatment administered, and overall clinical outcomes
Minimize the risk of medical malpractice litigation
How can Patient Satisfaction be Improved?
There are many ways to ensure that patients are satisfied with the quality of service being provided to them. Healthcare environments must digitize and automate their services and adopt the latest and most pertinent technology. They must show that patient care is important to them, thereby alerting patients to them and the services they provide. Here are some solutions that could help:
More Communication and Engagement
When healthcare providers and affiliate staff are easy to approach, available and willing to answer queries and open with the information they provide, patients will be likely to approach them. This helps establish a relationship of trust, mutual support and easy rapport.
Engaging with patients by requesting for their feedback is a further tool. By collecting the information customers provide about their experiences, the quality of service they received and where they felt improvement was needed, healthcare providers can better strategize future policy. Customer feedback is an effective means of engaging and involving patients more effectively in processes that impact them directly.
Shorter Waits, and Better Directed, Informed Patient Flows
Optimizing waiting room flows, adopting queue management technologies and keeping customers up-to-date with real time notifications is a sure way to improve patient experiences.
To reduce patient anxiety and perceived wait times, digital signage solutions can be deployed to better inform, engage and direct patients. These inform them of how much longer their wait is, which counter they must approach and any new services being offered.
To reduce actual patient wait times, virtual queue management solutions can be adopted to streamline ticket procurement, waiting, service and departure flows. These include the easy-to-digitally-onboard WhatsApp Queuing, people counting, etc.
Analytical Reporting
To optimize patient flow management, it is essential to monitor, collect, analyze and report on metrics like patient numbers, wait times, feedback, staff productivity, etc. This can be done seamlessly using Spectra Dashboards and Reporting software, thereby centralizing and improving service delivery. Such information comes in use when attempting to improve and evolve the public health service environment through data-driven policy formulation.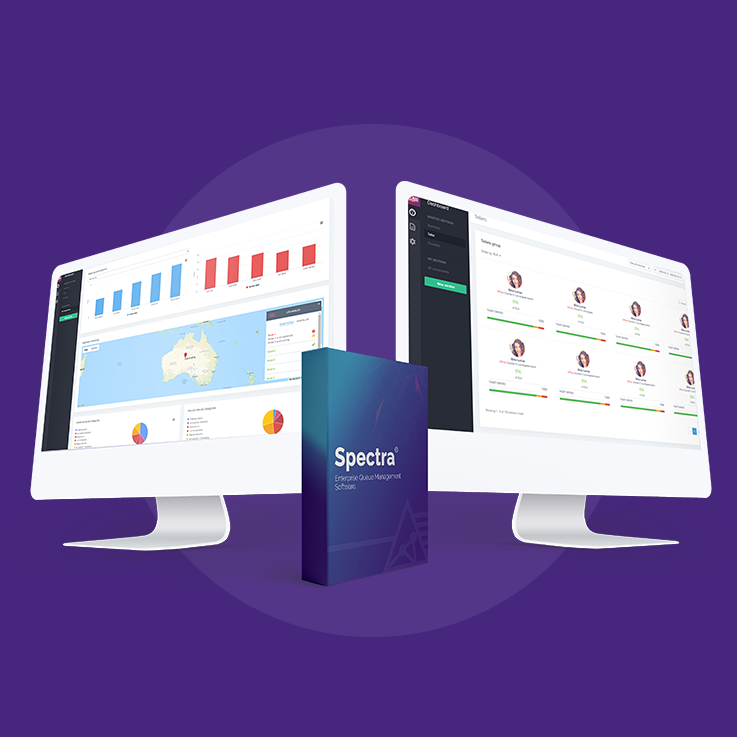 Appointment Scheduling and Customized Care
This solution not only helps both patients and staff plan ahead for appointments, but also reduces the stress of walk-in patients and reduces wait times.
By scheduling appointments in advance of arriving, patients inform the healthcare providers of what they want and when. Staff will prepare for their arrival better and be able to provide them with customized care relevant and specific to their needs. This results in increased loyalty, satisfaction and retention. Patients will feel valued and cared for.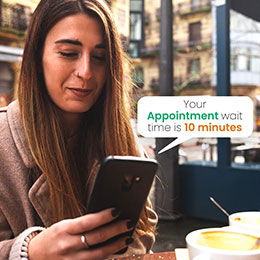 Additionally, a pre-scheduled appointment, along with the implementation of a queue management system for the hospital, means patients arrive on time and do not crowd up the limited resources of the waiting or service delivery areas. This means fewer people in the queue, shorter waits, and faster service. This allows patients to feel respected as their time is being honored.
Priority Booking and Queueing
While pre-booking appointments, patients can opt for priority booking and queueing. This helps the service providers distinguish between those who need immediate attention and those who could potentially wait, thereby alleviating additional burden on the system.
It also aids in directing patients to the healthcare provider who can best aid them in solving their problem. This raises staff productivity and patient happiness, while freeing up resources for those who need them most.
Delivery and Pickup Services
For lab results and prescription fills and refills, retail pharmacy businesses and hospitals could adopt both curb-side pickups and home deliveries to ensure that visitor foot traffic remains at a minimum.
This reduces the stress placed on staff and limited resources, and establishes an element of self service. Patients arrive of their own accord, avail of a service and depart – simply and frictionlessly!
Patient Feedback
After being served, patients can be asked to fill out short but extremely valuable patient satisfaction surveys. The feedback solutions that enable the collection of these responses are designed for ease of use, and the data received can be utilized to identify areas of improvement and areas that should stay at the same high level of service delivery. These results can alert you to aspects of patient safety, care quality and care delivery that only the patient experiencing them can make you aware of. This form of indirect communication is essential to prove to patients that their opinions and experiences matter and that healthcare management values them and is working towards enriching and safeguarding their journey flows.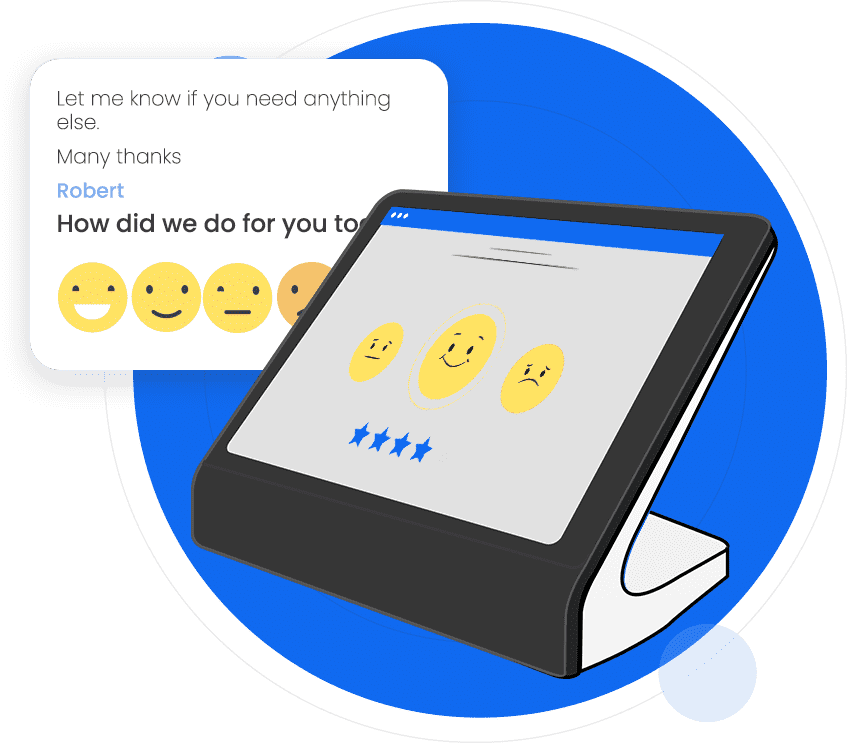 What are The Benefits of Wavetec Solutions for Healthcare?
Wavetec solutions prioritize patient experience and satisfaction immensely, while adopting the latest and best technological advancements to enable these.
Pre-Booked Appointments
Social distancing
Planning ahead for both patient and healthcare staff
Contactless self-service, reduced wait times and transparency
Directing patients to the right department for purposes of convenience
Necessary health screenings of questions pertaining to temperature, exposure, symptoms and recent travel – all prior to arrival, thus ensuring the safety of staff and patients on-premises
Real-Time Notifications
Patients with transparency of information,
Soundness of mind with estimated wait times known
A chance to wait remotely
Regular reminders in case of forgetfulness
Customer Feedback
Measure visitor satisfaction in real-time, and demonstrate a commitment to improving service standards
Follow-up on staff and branch performance
Strategic decision-making based on analytical reporting
Analytics and reporting
Real-time information collection and report compiling, to identify problems, inefficiencies and possible solutions
Informed policy formulation
Mapped patient journey flows for optimized and efficient resource management
Centralized control and monitoring
Additional advantages
Higher patient retention rates
Better patient care quality enabled
Increased market share
Easy-to-use
ADA/Disability compliant self-service contactless kiosks
Solutions are customizable and tailored to your specific needs
Standalone and scalable for simplicity and privacy
Cloud based
Limited training for staff to adapt to its use
BOOK A FREE DEMO