Traditional banking models are undergoing a significant shift with the evolving digital landscape. This has led to a need for bank branch transformation. 
As customers adopt digital technologies in banking, bank branches must keep up with the trends to deliver online and physical services. It is imperative to meet the changing customer expectations and drive operational efficiency.
Here are a few statistics to help you understand the drastic shift in banking trends:
According to the S&P Global Market Intelligence data report, US banks closed 149 branches and opened 49 in March. Similar trends have been apparent since the 2021 pandemic.
As per Galileo Financial Technologies, 77% of U.S. adults still use traditional banks. However, 61% of consumers are highly likely to switch to a digital-only provider.
These show that physical banking with seamless integration of digital services stays of utmost relevance. Banks can blend physical and digital experiences harmoniously by embracing branch transformation strategies.
The benefits of bank branch transformation are evident. A study revealed that satisfaction levels among customers improved by 28% following modernization efforts for branch transformation.
In this blog, we discuss the key drivers and the benefits of bank branch transformation. You get an insight into the practical world with scenarios of bank branch transformation.
Let's explore what is bank branch transformation in this digital era!
Key Drivers of Bank Branch Transformation
Bank branch transformation allows banks to maintain their market position and remain competitive in an increasingly crowded banking sector. Learn about features that drive bank branch transformation to help your bank stand out.
1. Technological Advancements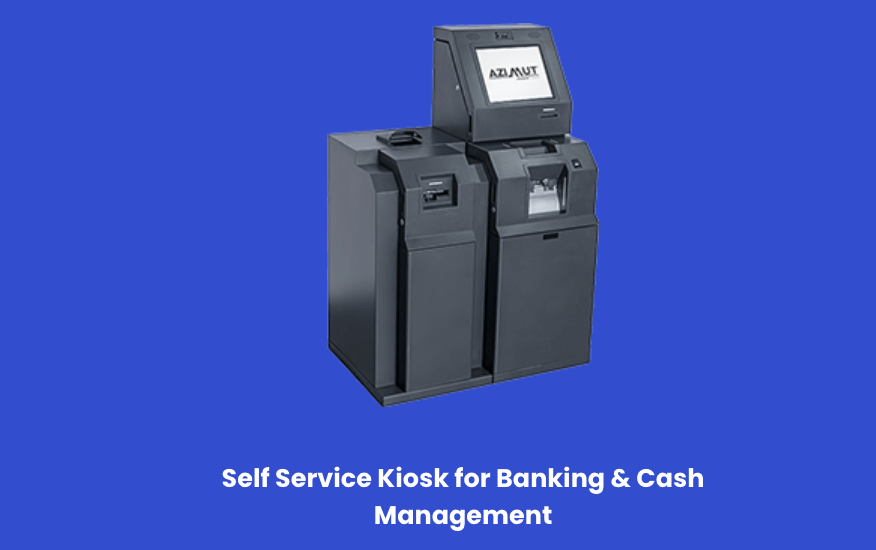 The advances in technology are important in driving bank branch transformation. With the rapid pace of innovation, banks embrace cutting-edge technologies to enhance services.
Digital banking solutions include mobile apps and online platforms.
Advancements enable banks to offer convenient self-service options. These include online banking, mobile deposits, and remote account management integrated with self-service kiosks.
This makes customers feel empowered and gives them control over transactions.
Artificial intelligence (AI) and chatbots enable banks to provide personalized assistance, and Customers appreciate a 24/7 customer support channel.
Additionally, real-time transaction monitoring and automated processes deliver faster services to customers.
2. Changing Customer Expectations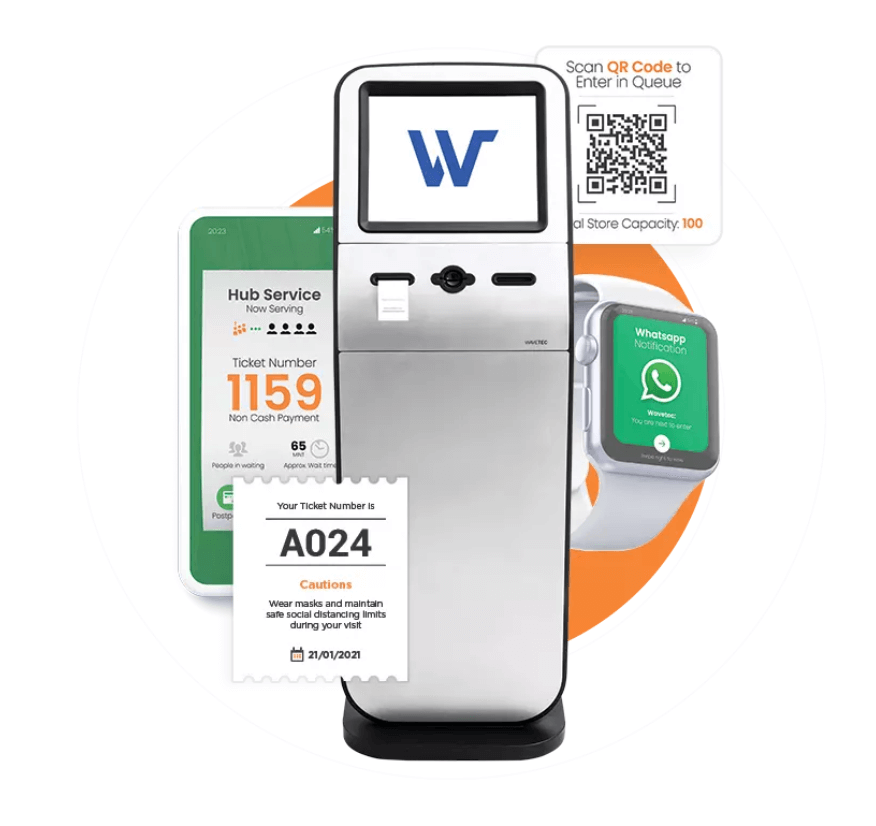 Customers expect banks to keep up with the changing banking behavior. They want convenience in the banking experience and flexibility in stitching between offline and online services.
Customers expect modern banking to tend to personalized individual needs. Customers want to transition effortlessly between physical branches and digital platforms. They want quick access to information, easy-to-use interfaces, and prompt service delivery.
Bank branch transformation can offer digital solutions in branches. Queue management software allows customers to reserve a spot in the queue. This reduces mismanaged queues and improves customer flow and wait times for customer satisfaction.
3. Increasing Competition in the Banking Sector
The entry of fintech companies and digital banking in the financial sector is giving the banking industry heightened competition. This creates a competitive landscape that puts pressure on traditional banks to innovate and differentiate themselves.
Bank branch transformation has become essential for staying relevant and attracting and retaining customers. By transforming branches, banks can offer unique propositions to differentiate services and stand out from competitors.
In order to create an immersive and customer-centric environment, banks can provide WhatsApp Appointments. This is a modern platform of communication that reduces queuing anxiety, making customers feel valued.
The Benefits of Bank Branch Transformation
The progress in bank branch transformation is immense. You should be familiar with the advantages before investing.
1. Personalized Customer Engagement
Bank branch transformation allows for personalized customer engagement. Digital solutions at a physical service allow banks to gather consumer data. Analyzing the pain points in a consumer journey gives banks a competitive edge.
This enables banks to provide tailored recommendations, offers, and services. By understanding customer preferences and behaviors, banks can make customers feel valued and understood.
2. Integrating Online and Offline Banking Channels
With bank branch transformation, online and offline banking channels integration becomes seamless.
Customers can initiate transactions or perform banking activities online and continue or complete them at a physical branch, or vice versa.
This flexibility in process and integration ensures a consistent and smooth banking experience across various channels. Customers will rate your bank positively for convenience.
3. Enhancing Security and Privacy
Bank branch transformation often includes advancements in security measures to protect customer data and transactions. This can be done via biometric authentication and encrypted communication channels.
When customers have peace of mind knowing their information is safeguarded, it fosters trust. Customers engage in financial transactions with confidence in your banking institution.
4. Expanded Service Offerings
Customers want a one-stop destination for various financial services. Banks can expand service offerings beyond traditional banking services through bank branch transformation.
This can include providing access to financial planning, investment advice, and insurance services.
5. Enhanced Customer Experience
At the heart of bank branch transformation lies the goal of enhancing customer experience. Digital technologies and streamlining processes reduce queuing and wait times and minimize paperwork.
Customers enjoy self-service options in the banking sector. This leads to a more efficient and convenient experience for customers. Personalized engagement, integrated channels, and expanded offerings all contribute to improved customer satisfaction levels.
Case Studies
UBL Deployed Wavetec's Remittance Kiosk – First-Ever Comprehensive Branchless Banking solution
Wavtec has played a pivotal role in the bank branch transformation of UBL (United Bank Limited) through its branchless banking solution.
UBL recognized the need to meet the evolving customer demands and capitalize on the growing popularity of digital banking.
One key aspect of Wavetec's solution was the integration of self-service kiosks and cash deposit machines. These enabled customers to perform transactions independently, such as account inquiries, fund transfers, and bill payments.
Wavetec's Queue management system directed customers to the service counters, minimizing confusion and optimizing staff productivity.
With real-time analytics and reporting, UBL gained valuable insights into customer behavior and service performance.
Furthermore, a Digital signage solution was deployed at UBL branches for targeted marketing messages and promotional content.
This visually appealing system engaged customers while waiting, increasing cross-selling opportunities for UBL.
BCI Bank revamps customer experience through Wavetec's digital signage
BCI Bank looked to enhance customer service with the implementation of Wavetec products. Wavetec's customer experience solutions showed improvement in customer engagement.
BCI opted for Wavetec's digital signage solutions. This easy-to-install system gives real-time updates on queue status and displays estimated wait times on screens.
This reduced customer frustration and allowed staff to offer individualized assistance and service recommendations, enhancing overall satisfaction.
The interactive displays provided customers with relevant information about products, promotions, and financial literacy resources. The expanded service offerings empowered customers to explore various financial services and make informed decisions.
In a nutshell, BCI was able to reduce advertisement costs by a huge margin. Updating software was easier than distributing marketing content. Its central management options contributed to easy scaling in different bank branches.
Frequently Asked Questions
Why is bank branch transformation important?
Bank branch transformation adapts to the evolving digital banking landscape and meets changing customer preferences to stay competitive.
How does bank branch transformation enhance the customer experience?
Bank branch transformation offers reduced wait times with the integration of an omnichannel experience that combines online and offline banking services. Automation and self-service options also contribute to a convenient experience.
How does bank branch transformation affect customer experience?
With banking transformation, customers can access banking services seamlessly across multiple channels. With valuable data, banks can extend targeted marketing campaigns and improve product development.
Final Words
Is your bank branch truly harnessing the full potential of a digital transformation to meet customer expectations?
Embracing digital transformation strategies in banking is crucial for staying ahead in the rapidly evolving financial landscape.
The answer lies in the willingness to adopt a bank branch transformation by which financial institutions can unlock a multitude of benefits. Some of the benefits include personalized customer engagement and the integration of online software with physical channels.
Bank branch transformation enhances security and privacy, instilling confidence in customers in the banking institution. Banks can expand services and set new standards for comprehensive financial hubs.
Learn more about the core goal of bank branch transformation to enhance the customer experience and how to build lasting relationships with customers.
Do you want to adapt, innovate, and prioritize the needs of customers?
Contact us today!
BOOK A FREE DEMO