Carachi Motor Company was established in the year 1986 as a modern automobile sales and service center, focusing on both, individual and corporate customers. In 1987, Carachi Motor Company was accredited as a licensed Suzuki Dealership after which it was rebranded to Suzuki Carachi Motors.
With tremendous hard work and dedication, Suzuki Carachi Motors, now in its 27th year has maintained its position as a leading Suzuki Dealership providing the best customer care. Carachi Motors is ranked among the top 3 dealerships in Pakistan with 3 locations across the country. Suzuki Carachi Motors has remained a market leader in terms of After Sales.
The Challenge
In a bid to uphold customer satisfaction and their high quality of service, Carachi motors was in search of solutions to help manage customer flow in peak time such as the morning hours.
Managing customers during these times is becoming difficult due to the high influx of clients who come in for maintenance and repairs.
Their primary pain point was managing customer flow at the service center.
The Solution
Wavetec deployed their Enterprise Queue Management system to service three counters at Carachi Motors' largest facility in Karachi to manage and organize the flow of customers that come in to avail after sales services or for vehicle repairs.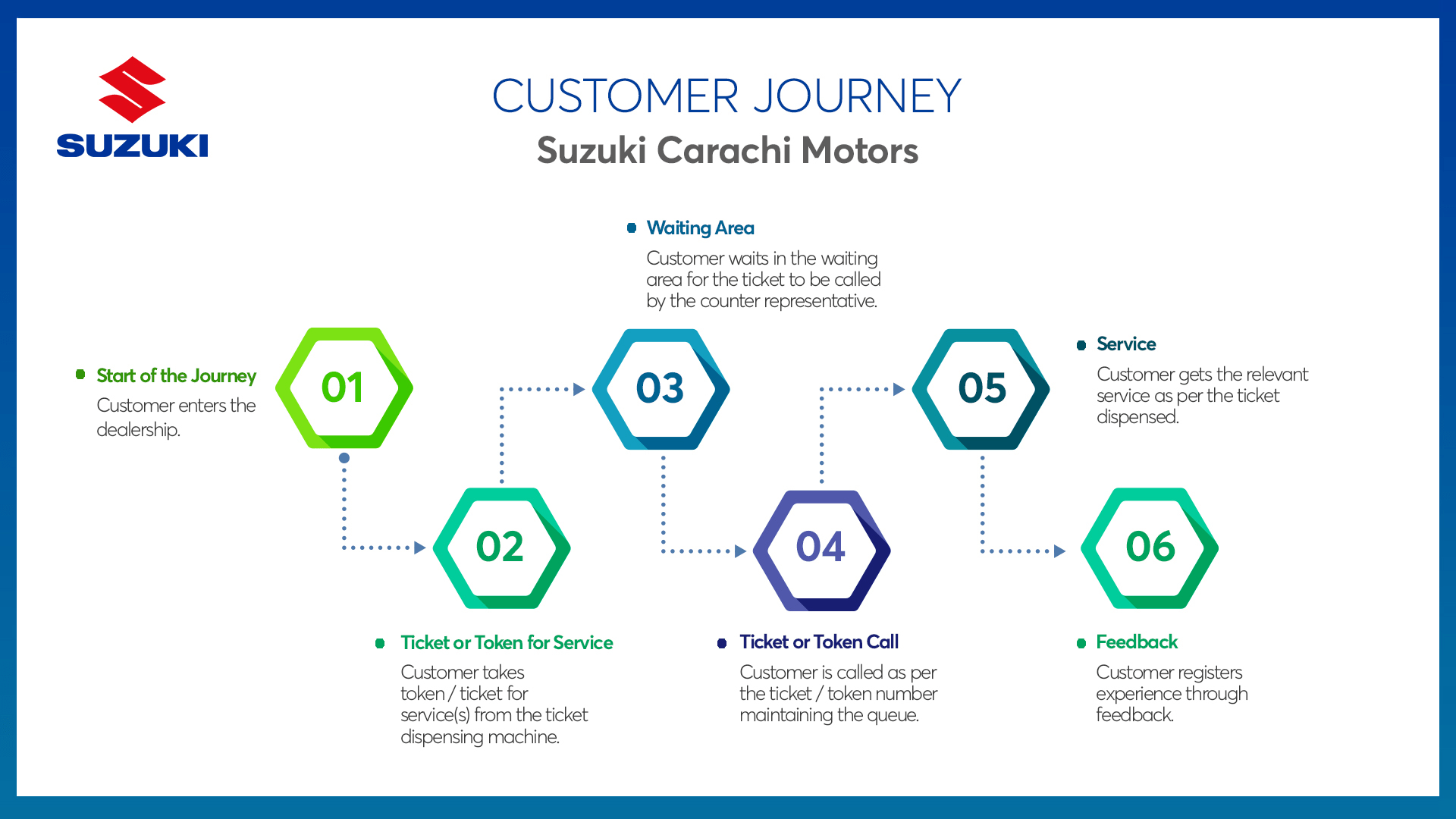 The Outcome
The solutions deployed by Wavetec were very well received by both the management and customers of Suzuki Carachi Motors.
Customer flow during peak hours became very manageable thanks to the queuing system.
This new queuing workflow ensured optimal service time and quality.
Customer satisfaction also went up as a result of smooth customer flow and service.
"Wavetec's queuing solution that was deployed at our service center has addressed the problems and the solution has proven to be effective in managing the people, reducing wait times and customer overlapping resulting in eradicating the chances of mismanagement of visitors."
Mr. Shehzad Siddique, Assistant Manager After Sales