No longer is the term CSR, 'Corporate Social Responsibility', a peculiar term amongst businesses. Corporate social responsibility is about the amalgamation of social, economic, and environmental considerations into the decision-making of business ideas and structures. It is about coming up with and implementing creative and value-added solutions to societal and environmental challenges.
It is about doing business responsibly, engaging shareholders and other stakeholders, and collaborating with them to more effectively cut down social costs imposed on society as a result of doing business and maximize the social benefits received!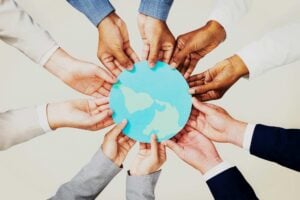 CSR hence establishes the basis of trust and credibility for organizations to ensure sustainable business growth. Even the smallest of organizations benefit when putting Corporate Social Responsibility (CSR) at the heart of their business philosophy.
Whilst profit is the end goal for any business, responsible businesses have achieved attracting more investors and addressed the stakeholder concerns thereby reducing risks. Therefore CSR can promote respect for a company in the marketplace which can result in increased sales, boost employee loyalty and attract quality personnel to the firm.
Wavetec Partners with The Citizen's Foundation
Inculcating the value of CSR and engaging your employees in CSR activities can improve the overall job satisfaction level of employees and make them feel responsible and accountable members of society. Wavetec to make a valuable contribution to society has partnered with The Citizen's Foundation to completely finance their school branch at Keti Bunder.
Not only this, Wavetec employees are actively participating in the mentorship program launched by TCF by the name Rahbar, where they regularly volunteer as career counselors for grade eight students.
Wavetec makes sure that our presence in society is felt strongly and has helped to ensure education for underprivileged communities to create leaders and help generate innovation that would lead to a prosperous future.
BOOK A FREE DEMO