In this blog
We will discuss:
What hurdles do healthcare providers face in patient management?
How queue management solutions can help inpatient management?
Issues Faced by Healthcare Institutions
Healthcare providers have their own set of problems and hurdles that need to be overcome. It is high time to identify gaps and design efficient patient journey maps to transform the healthcare system.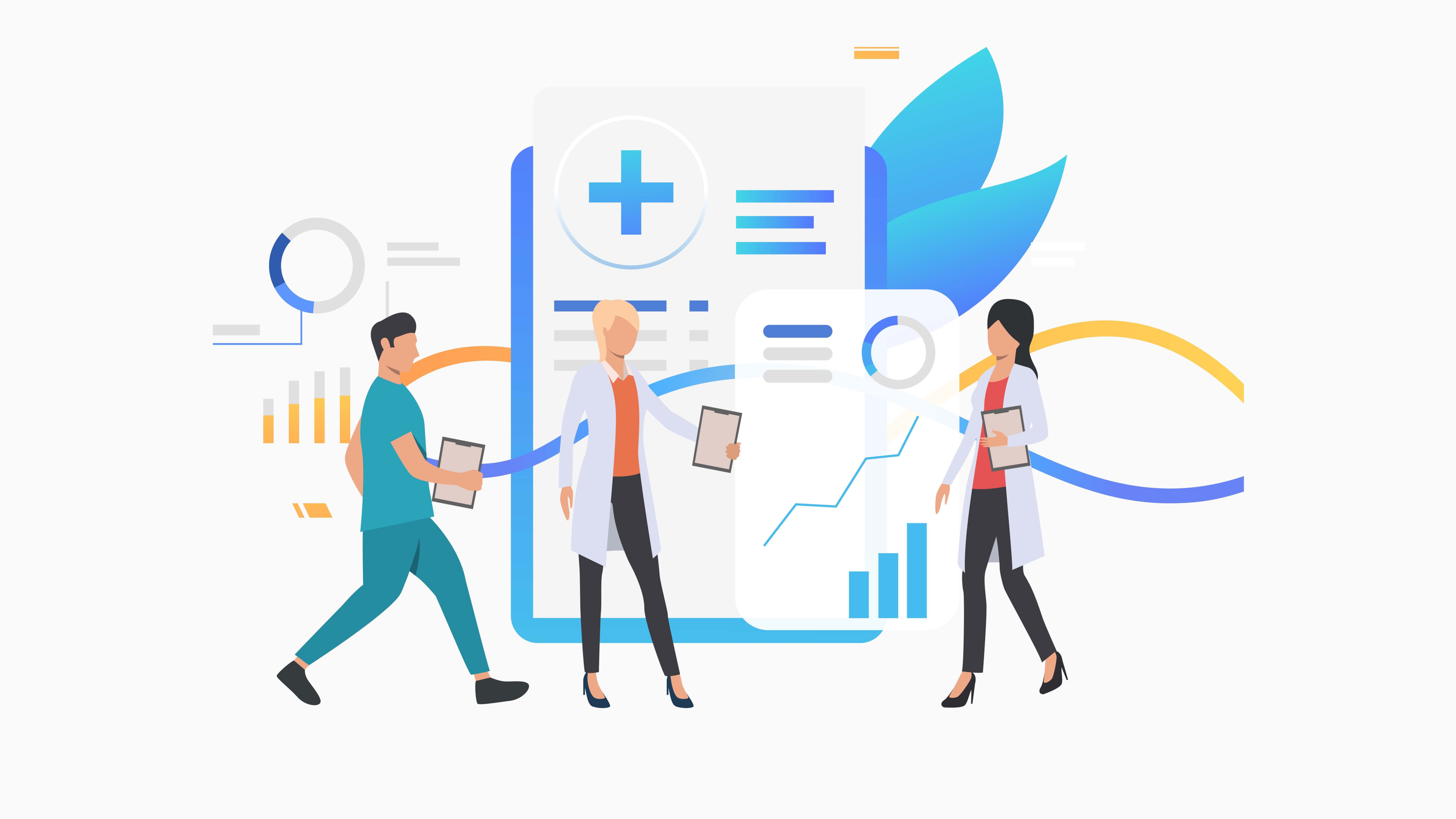 Some of the internal and external factors affecting a patient journey are:
1. Right Allocation of Limited Resources
With scarce financial and human resources, healthcare providers must allocate resources according to the areas of most need. These may include waiting rooms, emergency rooms, testing and vaccination centers, etc.
To help optimize the utilization of limited resources, it is essential for healthcare providers to map out the patient journey completely, from pre-arrival to after being served. This aids in clarifying and highlighting areas of improvement.
2. Working Efficiently in a Stressful Environment
Limited resources, emergency patients, visitors in urgency, and stressed-out staff is a recipe for healthcare disaster. Both parties suffer when patient queues are too long and staff is unaware of estimated wait times.
Staff needs peace of mind to manage patients effectively whereas for a better patient experience they need transparency of information to have an optimal experience.
3. Lack of Data Reporting and Insights
Without proper patient data collection, accurate and real-time reporting is not possible. And in turn, neither is effective policy formulation nor methodological management.
For a seamless patient journey, healthcare providers and management must optimize workflows and service areas to be able to serve efficiently. And they need evidence that these practices are working, such that changes can be made accordingly.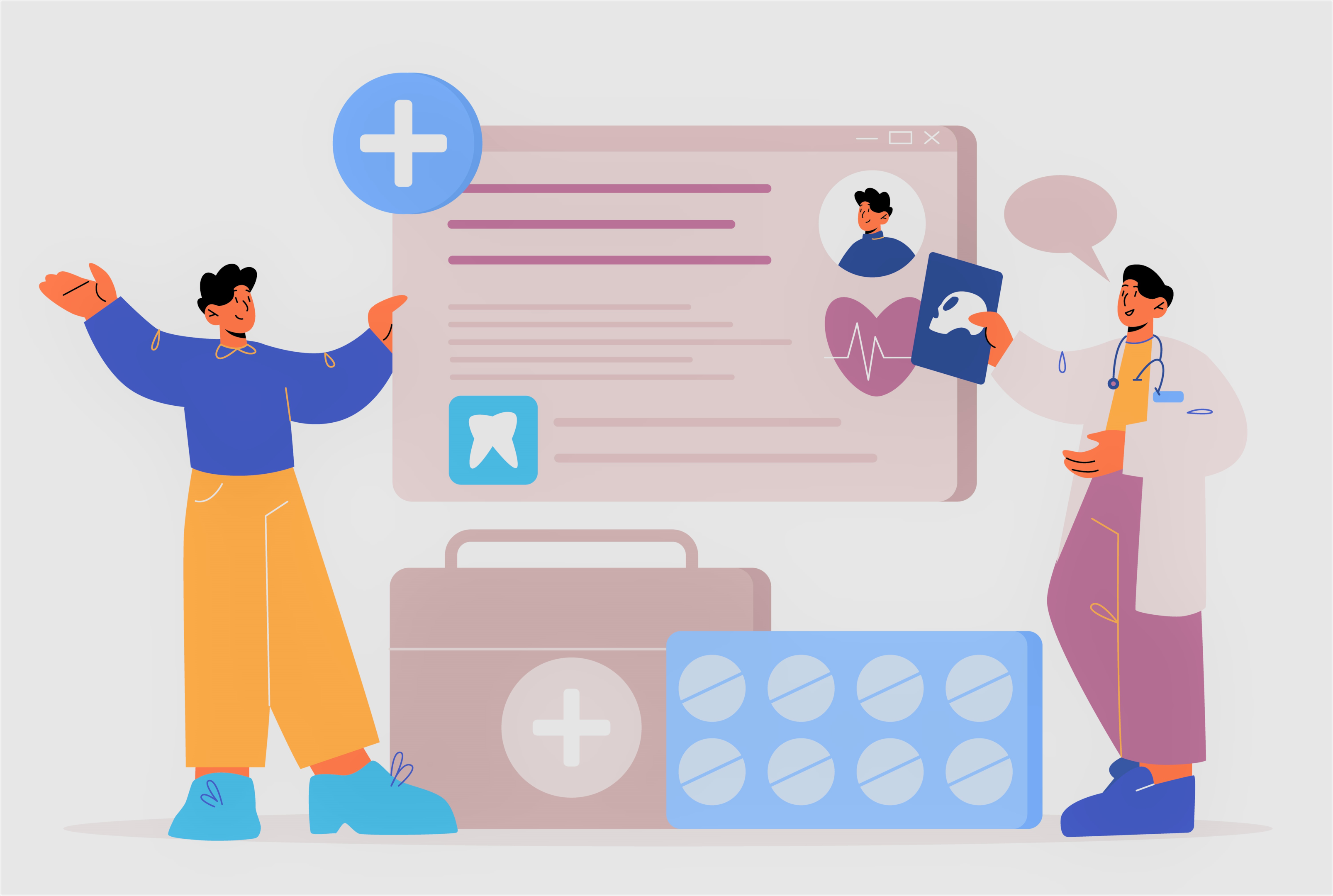 Additionally, healthcare providers do not invest enough time in digitizing their operations. This is to their detriment as patients extensively search the web before making appointments. They are 3x more likely to run searches on your services than those who do not book appointments. And with the pandemic not going anywhere, appointment booking is the way to go!
Why do Health System Need Queue Management Solutions?
Being a patient or a visitor is usually a stressful and anxiety-ridden affair. One's health and that of one's loved ones are important, and not to be taken lightly. To put these concerns to bed and to assure patients that the healthcare management has their best interests at heart, it is key for a health system including hospitals, clinics, laboratories, emergency rooms, pharmacies, etc. to create a comfortable and organized environment.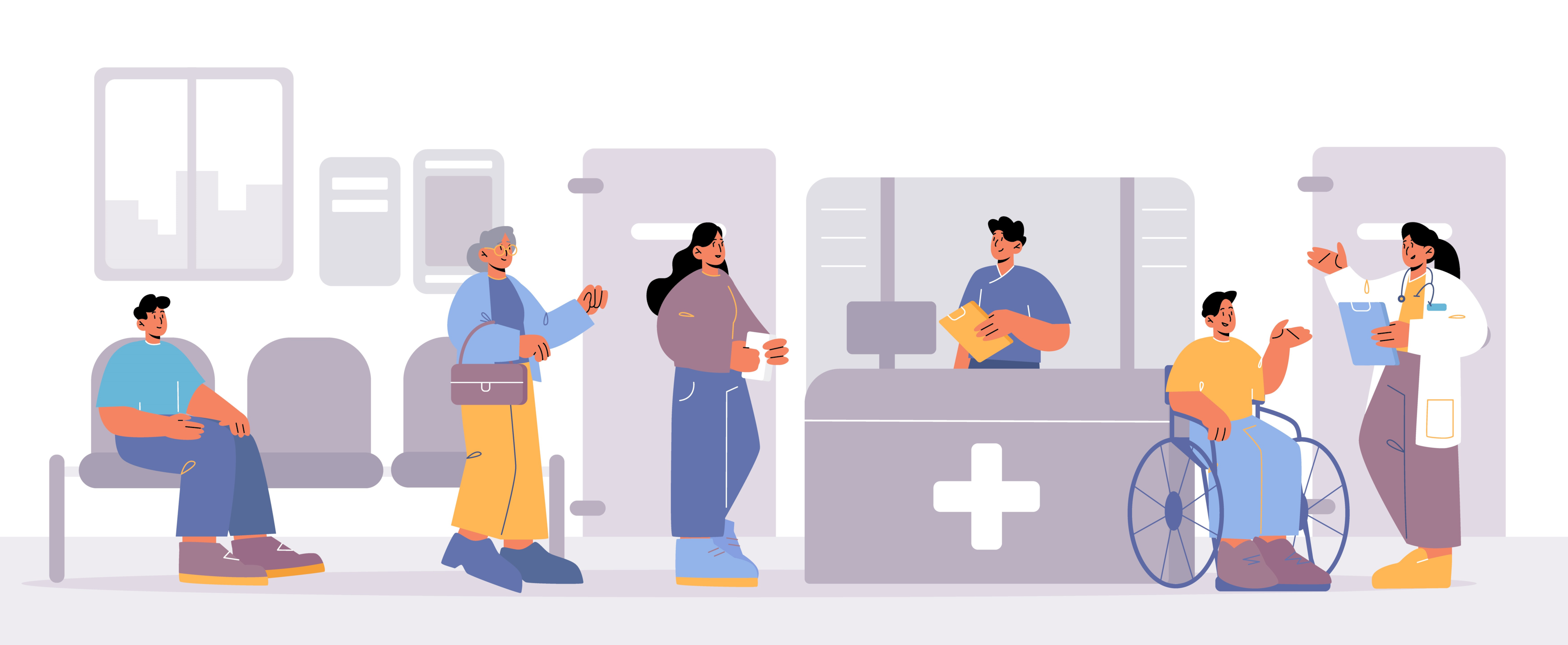 Health and safety must be prioritized during a patient's journey. Their business is valued and their interests protected. Healthcare professionals need technological solutions that manage crowds, guide patients and caretakers, and protect staff – holistic software and hardware products.
With limited resources, care providers at hospitals must consider their investments carefully, and a queue management system for healthcare is an ideal example of the right kind of sustainable investment.
Hospital management systems promise:
Shorter and more comfortable waits
Virtual and remote queuing social distancing benefits
Reduced operational costs and optimized staff allocations
Increased sales and profit margins, and quality of service
Improved staff productivity and contentment with job
Improve patient satisfaction levels
Industry-leading KPIs
How has Covid'19 Impacted the Healthcare Services?
With the onset of the pandemic, it became clear that healthcare facility centers and providers needed to take necessary action to protect staff and patients with SOPs, technology, and digital queuing solutions. Social distancing and the maintenance of occupancy limits became paramount.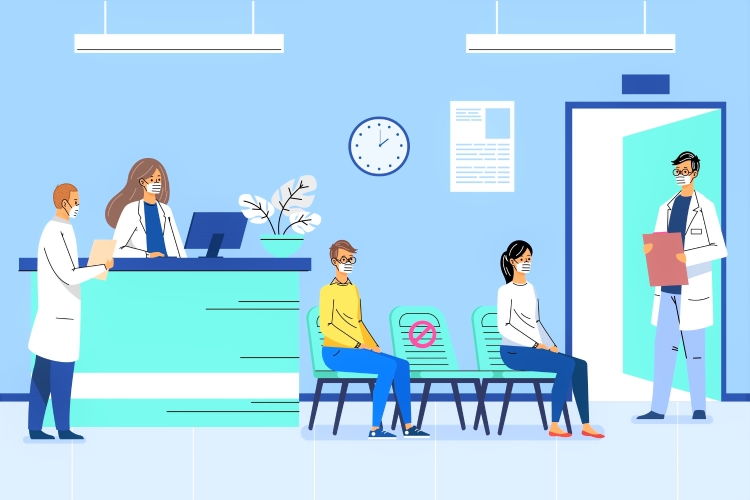 Benefits of Patient Journey Mapping After COVID'19
Patient experience is the foremost important thing for healthcare professionals. When providing a medical facility, it is important to create an impactful patient journey. For that, alignment of healthcare goals with patient expectations is a must. After COVID'19, even visitors to a hospital hesitate to spend a lot of time in a waiting area.
The patient interacts with several people and things for hours add to the confusion and frustration of a patient. Therefore, a healthcare professional need to identify the pain points of a customer journey and create the process accordingly.
Solutions for Effective Hospital and Clinic Management
Hospitals and clinics with outdated policies, and machinery, must develop solutions to improve patient experience effectively. Covid19 catalyzed change in management practices that were a long time in the coming. It simply delivered the decisive push!
Here are some of the solutions to be implemented in healthcare sectors for a better patient experience.
1. Online Appointment Booking and Management
The patient journey starts even before the patient arrives at the hospital. Facilitate patients and visitors in booking appointments before arrival. This way, they can select the time and day of their liking, and staff can be aware of their arrival in advance, allowing them to make the required preparations to best serve them.
Bookings can be made via the hospital's website, WhatsApp Queuing, text message, an application, or a self-service kiosk (offline). This solution works well by reducing footfall, reducing queue size and wait times, and giving patients autonomy in choosing when, where, and how they wish to be served.
2. People Counting for Patient Management
When patients or visitors enter the premises, their presence will be recorded, counted, and logged by this visitor counting solution. This is a simple and swift way to maintain occupancy limits and adhere to social distancing guidelines.
People counting on patient journeys also allows healthcare companies to gauge the number of visitors to be expected, thereby allowing them to prepare to serve them in advance. And when integrated with digital signage (mentioned below) it can be used to alert people to refrain from entering when the limit is close to being reached.
3. Digital Signage for Better Hospital Guidance
Given that hospitals are stressful environments, digital signage will help ensure that patients and visitors are guided to where they need to be, kept informed of SOPs and offers, and engaged with interactive and interesting displays while waiting their turn.
These displays are high quality, user friendly, and integrated and the content can be customized and scheduled at will. They are highly effective at reducing perceived wait times and maintaining the transparency of information.
4. WhatsApp Queuing to Ensure Social Distancing
Patients arrive on-premises and scan a QR code. A WhatsApp chat with the hospital management is opened and the patient or visitor begins by communicating the service they desire to avail of. They are issued an electronic ticket and regularly updated about queuing statistics, such as estimated waiting time.
They wait for on-premises or off-premises, perhaps even running an errand while they virtually queue. WhatsApp Queuing is a state-of-the-art software solution that allows for organized and smooth queue management.
It is environmentally friendly, easy to use for both digital and non-digital patients, and helps reduce physical interaction and occupancy numbers.
5. Patient Feedback to Improve Patient's Experience
After having been served, patients should be allowed to register their feedback and insights. A patient experience can be submitted on their digital device, via a self-service kiosk, tablet, SMS, or text.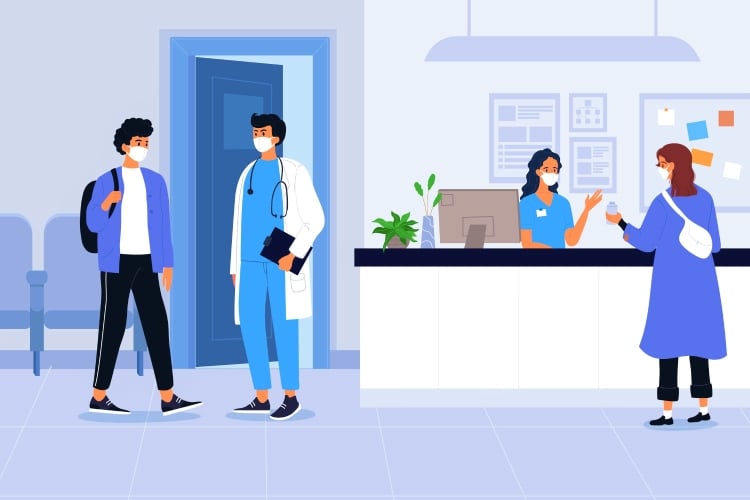 Patient feedback has a dual purpose and benefit. It makes patients feel heard and valued while allowing staff and management to improve by highlighting areas that need improvement and areas that are working optimally.
6. Dashboards and Reporting
With all the patient data collected from footfall statistics, feedback input, and service details, Spectra Dashboards display real-time information effectively. They also generate reports so that management can see the timely impacts of their policies, allowing them to take action.
This is the ideal holistic reporting solution, designed to be customizable and scalable.
Patient journey mapping is the key to the success of the healthcare system.
The Wavetec Guarantee
Wavetec innovates, builds, and delivers patient-centric and technologically sound software and hardware solutions. They can be integrated with other systems seamlessly, guiding patients and visitors through a frictionless patient journey flow.
Improved brand recognition and loyalty
Ensure social distancing and occupancy limits
Increase patient satisfaction by 30%
Reduce patient wait time by 50% and manage queue lengths
Integrations available with messaging apps, appointment scheduling, feedback systems
Customizable and centrally controlled
Real-time analysis and reporting via Spectra dashboards
Adopting an attitude and policy of patient-first service is key for effective patient journeys.
BOOK A FREE DEMO