Kenya Commercial Bank Group, also known as KCB Bank Group, holds a history of 116 years. KCB with presence in six counties with a total of 230 branches is a financial services organization in East Africa. The Group's headquarters are located in Nairobi, Kenya, with subsidiaries in Kenya, Rwanda, Southern Sudan, Tanzania, Uganda and Burundi. KCB Bank Group is the largest financial services organization in East Africa, with an estimated asset base of approximately Ksh. 367.4 Billion, with capitalization standing at Ksh. 53 Billion at end of 2012.
Project Requirements
Banks in Kenya faced immense rush of customers in their Retail branches. Moreover with increasing number of customers at branches banks face numerous problems like dissatisfied customers and complaints. KCB became the first Bank in Kenya in realizing to address this in their crowded waiting areas and long queues at all retail branches.

Benefits for KCB
Organize the flow of customers visiting the branch, which in turn reduces the real & perceived waiting time and brings fairness to the service process, both with a direct impact on the customer satisfaction.
Engage customers with KCB targeted news, promotions and brand awareness while waiting to be served, with an immediate effect on their brand loyalty.
Measure the Customer Satisfaction so as to gather real data to continue building on the growth strategy.
Reduction in their operational cost by improving the efficiency of the Tellers through the usage of real time and historical reporting system.
Increase in Revenue by targeted communication through the Digital Signage Touch Points.
Our Experience
Wavetec being a global player in the sphere of Queue Management Solutions holds an extensive experience. With successful queue management systems installed in over 40 leading banks namely, Lloyds, Standard Chartered, Citibank, Stanbic ,Barclays and Interbank, ; Wavetec now stands at the forefront of EQMS and integration services. Moreover Wavetec's solutions have gained recognition and visibility in the African market due to the installations done at Equity Bank, KCBS, Emirates Airline office, NOKIA Care outlets, Kenya Power Customer service Centre, therefore strengthened the belief in Wavetec's solutions in the African market.
Our Solutions
After several meetings between Wavetec Customer Experience consultants and KCB team to identify the real challenges at the branches, Wavetec designed a new customer flow to increase the satisfaction levels of customers and improve the efficiency of the bank tellers. Over 26 KCB branches in Kenya implemented Wavetec Electronic Queue Management Systems (EQMs) with a custom made Ticket Dispenser Kiosk of 15" touch screen and a dual printer system which enables a continues issuance of tickets. The number of branches with EQMS will reach 52 by the end of June 2014. Moreover, to maximize the customer journey, Wavetec and KCB went beyond the mere organization of the flow by implementing a customer holistic approach that covers the engagement of customers through Wavetec Digital Signage platforms, such as Donatello.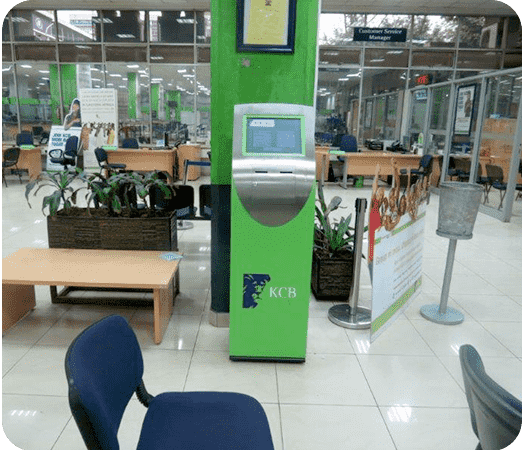 The complete Customer Experience at the branch; Queue Management System and Digital Signage are now managed through a centralized web based application that also provides a full range of real time and historical reports such as Performance of the branch and its tellers, waiting and service times and unsatisfied customers, among other reports. Going into details, each branch is equipped with small LED Displays at each counter so as to reinforce the ticket being called and avoid confusion for the customer while walking towards the designated counter. The biggest branch of KCB is currently operating with 34 counters and is now considered as working model for other banks in Africa with over 2,000 customers visiting every day.