About
Habib Bank Limited (HBL) is Pakistan's first and largest commercial bank. Established in 1947, HBL has since grown its branch network with over 1,650+ branches and 2,100+ ATMs globally, serving 23 million+ customers worldwide.
Being a reputable and trusted global bank, they have a duty to their clients to ensure smooth customer journey flows and exceptional visitor care.
Concern
HBL required a system that could be integrated with their core banking system seamlessly and effectively. They were utilizing an obsolete version of the Queue Management system of another vendor previously.
In 2019, they installed Wavetec's Queue Management system in 5 branches.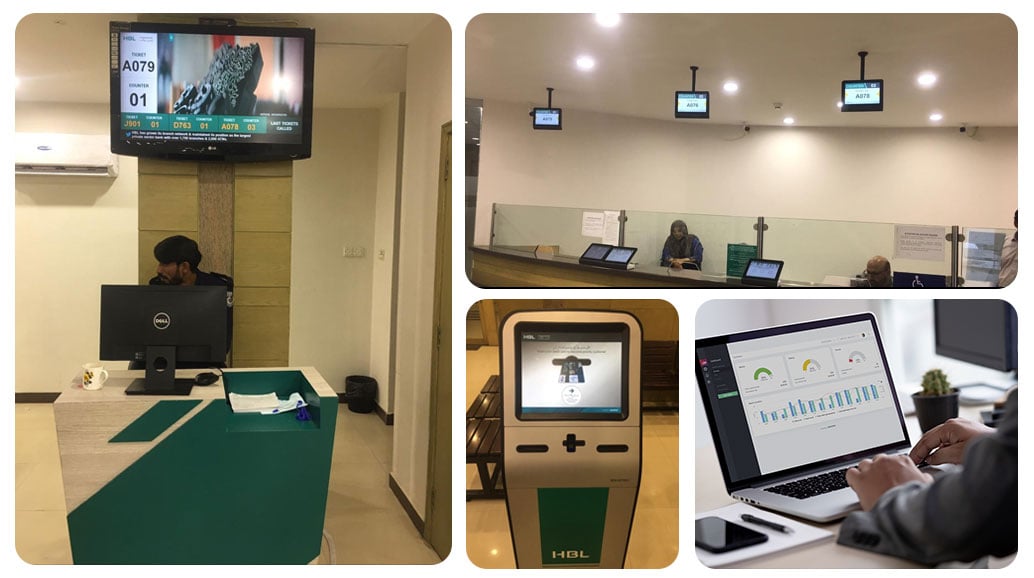 Solutions deployed
For this purpose, Wavetec developed a customizable system with unique features to facilitate them in generating complete and detailed customer journey reports by combining ticket tracking and customer information.
The solution deployed included Virtual queue management, video walls, digital signage, customer feedback systems (10″ Opinion Plus), interactive kiosks (M-13 with Card reader), and Spectra Reporting and Dashboards.
As per HBL requirements, this system was integrated with the core banking system – allowing HBL customers to get priority over non-HBL clients, and for the service quality team to generate customized reports through our Spectra reporting and dashboards software.
Benefits
Reduced customer wait times
Improved service delivery
Contactless and optimized customer touch points
High levels of consumer satisfaction
Swift and easy digital customer onboarding
Easy-to-install and user-friendly
Scalable and customized
Reduced operational costs and higher profit margins
Result
As a result of the deployment of these solutions, HBL has had positive feedback to relay, from both a customer and business perspective. With customer-centric policy formulation and implementation as one of their key core values, they have done justice to the trust and loyalty of their digital and non-digital clients.
Wavetec Queue Management solutions have aided in bringing innovative, empowering and sustainable change to HBL bank branches.