BCI, a prestigious bank with a strong presence in Chile, has chosen Wavetec's Digital Signage solutions to strengthen customers and clients experience development by focusing on engagement and entertainment.
Based in Chile, BCI is a financial institution serving customers and clients throughout the country. With a workforce of 10,500 people and over 300 banking centers, BCI serves a broad range of individuals. The company opened for business in 1937 and since then, it has built on the prestige of its full range of products and services as well as its best quality customer service.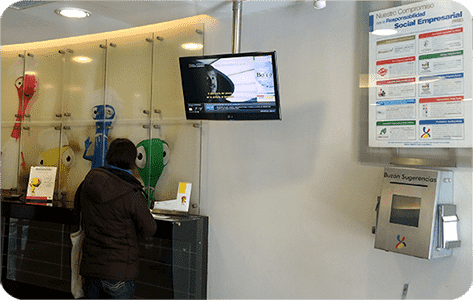 Background
BCI has constantly put its efforts in ongoing innovation, serving as the building foundation for its currently solid position in the Chilean market. With the goal of implementing new strategies to enhance customers' and clients' experience, and in turn BCI's interaction with its stakeholders, the company set to find partners for developing and executing a digital signage project for banking centers and offices.
The Specific Need
When figuring out the most convenient digital solution, the main criteria centered on finding a technological alternative that would allow to:
Minimize customers' and clients' waiting time at each financial center through all-audience entertainment content (cinema, TV, sports, cookery, current affairs, etc.).
Manage entertainment content at all financial centers through a central server to facilitate information operational control.
Monitor system stability at all times.
Program content according to time slot and customers' and clients' profiles.
Apply high-performance technology which is easily installed and maintained.
Expand to cover all financial centers and offices through an investment which does not undermine the business model.
Join a technological partner with an ability to offer solutions, not as purchase projects but as long term services.
The Solution
To meet the specific needs, BCI has opted for Donatello, Wavetec's digital signage solution to optimize the utilization of the service area engagement alternatives. Within the project's framework, which had its Implementing Stage in December 2013, a number of 32 and 55 inches screens have been set up in different BCI branches. Each of these TVs is wired to a Donatello trough an HDMI cable that allows HD content reception. A central web server wired to every device through a LAN or WiFi connection is responsible for the screens' administrative operations.
Content programming and management are carried out from Donatello Suite software, easily installed and executed in any Windows laptop. The screens content is then customized combining a variety a modules such as date and time, the weather, TV programmes, and even social networks.
As an additional function, the possibility of restricting bandwidth per time zones to avoid any malfunctioning at the different branches due to content download has also been developed. Also, automatic warnings are set up to email notices regarding every branch stability. The project comprises the setting of 260 screens during the first stage until July 2014 to progressively reach the institution offices.
BCI Benefits
Engagement opportunities: BCI has now a new tool to devise an enjoyable experience for its customers and clients in a physical environment that may be used to build customer relations and so, impact on business outcomes.
Easy installation and maintenance: In case a Donatello Player needs replacement, any company representative is in a position to plug in the new equipment. The application starts working automatically.
Central management: It implies the control of each screen, which means that operational work is facilitated. The system allows the creation of user profiles and the granting of content uploading as well as content approval permissions.
Ideal customizing options: The content modules are designed on a flexible canvas, so there is room for the inclusion of all of BCI communication needs: institution information, the weather, date and time, social network postings, and live TV as well. Also, the tool can be integrated to the waiting line management system.
Advantages in costs: Donatello has been developed on the Android platform. This results in significant acquisition as well as software license updating savings which do not impact on the product's high quality standards; i.e., reliability and performance. On the other hand, the solution does not call for heavy hardware investing, thus enabling scalable project execution.
BCI expectations during both the Design and Execution Stages have been more than satisfying. All of Donatello's functions are being gradually explored.
Our Experience
Wavetec has a long track record on providing solutions aimed at building valuable experiences within the service area, not only for consumers but also for organizations. Accordingly, the development of digital signage, waiting line management systems, and experience measurement provide full solutions tailored to meet every client's needs in business such as retail, banking, or health from over 60 countries.The high quality and technological innovation standards have paved the way for Wavetec's work on solid projects for companies such as, Interbank, Barclays, Emirates Airlines, Tesco, LIDL Germany, and Chilexpress.