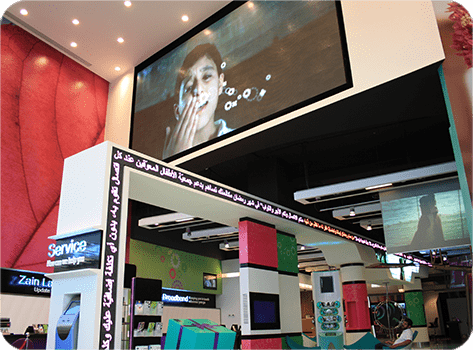 ZAIN (Saudi Arabia) is one of the three GSM providers in the Kingdom of Saudi Arabia. Being the last to enter a competitive market ZAIN required a robust technology provider to 'turn-heads' for their marketing and retail front. WAVETEC proved to be the ideal choice assisting ZAIN in launching what is easily the most technologically advanced and dazzling Retail outlets in the GCC. ZAIN Flagship- Retail and Customer Service centers are located in all the major cities of KSA. With three launched and another 5 upcoming locations this year ZAIN has chosen to uniquely position its signature brilliant look in all metro areas big and small. WAVETEC was tasked with providing a breathtaking WOW look together with significant purpose behind each device. This proved to be right up WAVETEC's domain expertise when exciting display technology was blended with universal Content Management and Customer Flow control. For the display solution, WAVETEC provided ZAIN with a solution that included, One giant Indoor LED Screen, One Outdoor LED animated logo, Dual Side Custom Shape High Resolution Indoor LED Screens, Dual Side Two Dimensional Full Color LED Tickers for Text Messages, Three 42″ HD Touch Screen Kiosks and a specially designed Borderless LCD screen with a 4 x 4 Video Wall Matrix. All these systems were linked with WAVETEC's signature Content Management Software Suite that streams optimized content on these varied displays. WAVETEC provided ZAIN with an Electronic Queue Management System (EQMS) which allows it to monitor and manage the customer flow of all its Flagship stores nationwide. WAVETEC EQMS has helped ZAIN in managing its customers and staff, enhancing their customer service significantly. The EQMS incorporates ZAIN trademark green color instead of boring red text displays. The Custom ZAIN chime is heard when calling customers to be serviced. The system is also equipped with an automated Azaan. As ZAIN does not use standard PC's in the Flagships another challenge was to utilize thin clients systems for calling customers to the service counters. WAVETEC provided ZAIN with its Thin Client TSU which can run flawlessly on devices cloud based operating environments thereby exceeding ZAIN requirements. WAVETEC was able to provide ZAIN with a highly customized queue management system only because of its unique capability to deliver exactly what the customer requires.
Electronic Queue Management Solution for Zain
WAVETEC installed an Electronic Queue Management System (EQMS) for ZAIN which consists of different electronic and software components that make up this single solution. All the menus and announcements can be multi-lingual, in this case, English and Arabic. The eQ Touch Screen Kiosk – Ticket Dispensing Unit (TDU) featuring Redundant Dual Printers provides a modern interface for dispensing tickets to customers. ZAIN has a massive advantage that if one of the printers fails to print due to technical issues the second printer acts as a backup and ensures smooth operations. The Touch Screen Kiosk TDU can accommodate over 60 service categories which can be added instantly. One can even show eye-catching, dynamic promotional messages to captivate the audience. Multiple screens can be used to guide customers step-by-step throughout the process making it easy for them to transact. ZAIN's management can add as many categories they want on the kiosk to identify customers and prioritize them. LCD screens with customized content management were deployed in the waiting area. The screens are easy to read and display tickets which are called at different counters. The screen can be configured using specialized schedules so that ZAIN can display its upcoming promotions or other content on these screens along with ticket information. In addition to the Waiting Area Display, the customer's ticket number will also flash on the Counter Display Unit (CDU) in Zain Green, which has been placed strategically on the counter on which the customer is being called to. An audio announcement with the custom Zain Chime is also made for the respective ticket number when it flashes on the CDU calling out the number of the ticket to be served. The system also has an Automated Azaan Feature which plays the Azaan during Azaan timings and mutes audio announcements. The web based TSU is a Teller Station Unit that allows the counter staff to call the next customer waiting in line after they're done serving the previous customer. It provides a visually appealing interface with numerous easy to use buttons for all the TSU features and various additional functions such as Wait, Transfer, Random Call, Priority Call, Recall etc. This gives the option to ZAIN's staff to override the automatic calling system if the need arises. eQwave Central Reporting System allows controlling and monitoring the queuing process and its various modules over the nationwide Network. eQwave Reporting Software also generates all the customer service records from all remote locations in real-time for the senior management of ZAIN at their Head Office.

WAVETEC installed a Full-Color Outdoor LED panel which shows the animated logo of ZAIN. This display was strategically placed keeping in mind the current architecture of the building and optimizing the viewing angles and distance from the road so that the quality of the animation would be an eye catcher.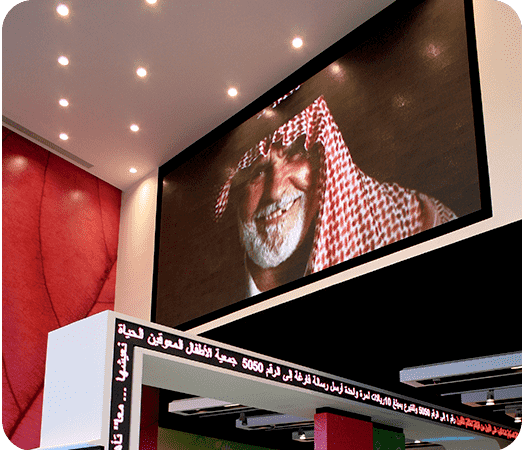 Large Indoor Led Screen
WAVETEC installed an eye catching HD LED Screen which grabs the attention of every customer entering the customer care center providing ZAIN a great opportunity to communicate and provide important information to its customers. The LED Screen provides rich video and graphics in vibrant colors and high-resolution for an enhanced viewing experience. Dual Side Two Dimensional Full Color Led Tickers WAVETEC installed Full-Color LED based Dual Side Tickers which present exceptionally bright text adverts for information dissemination. These tickers display all the promotional messages for ZAIN in vibrant and eye-catching colors improving ZAIN's reach to its customers.
Dual Side Two Dimensional Custom Shaped Led Screens
WAVETEC installed Dual Side Two Dimensional Custom Shaped LED Screens. The LED Screens were customized according to the requirements of ZAIN taking into consideration the unique curving architecture of the center spine. WAVETEC provided ZAIN with dual sided Full-Color LED Walls for Indoor use. These dynamic displays offer high versatility and are ideal for screening high-resolution graphics and video animation for close viewing. The fine pixel pitch is great for all types of content display in vibrant, full-color (RGB) resolution and presents exceptionally bright graphics with superior contrast, wide viewing angles, energy efficiency and extended life.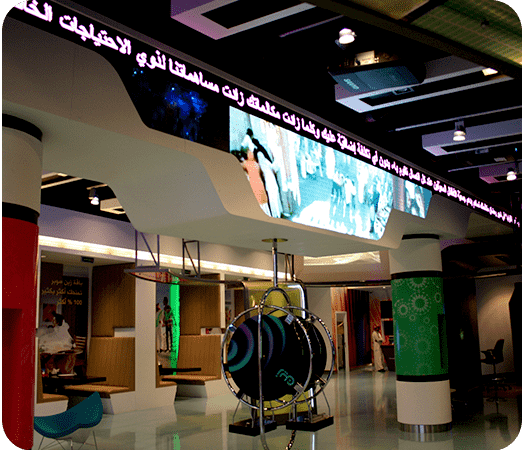 Interactive Seamless LCD
WAVETEC designed and installed a special Borderless LCD Screen with 4×4 Video Wall Matrix which is used to play interactive games involving body movement. The Interactive LCD was specially designed for ZAIN and uses body movement recognition to run interactive games such as football. The LCD can be used for various other purposes but ZAIN mainly uses it to enhance the waiting experience of its customers while they are in the queue to be served.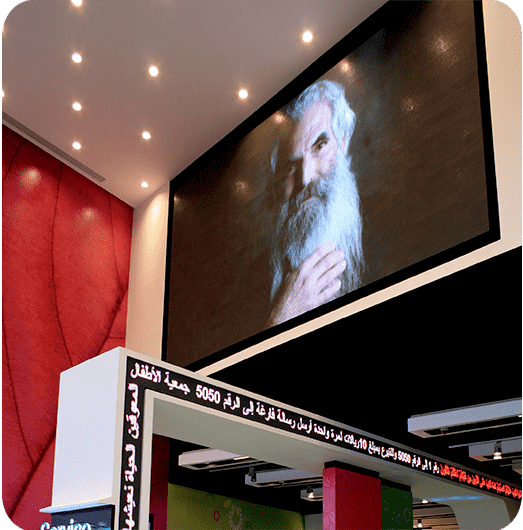 Outdoor Led Wall Logo Display
WAVETEC installed a Full-Color Outdoor LED panel which shows the animated logo of ZAIN. This display was strategically placed keeping in mind the current architecture of the building and optimizing the viewing angles and distance from the road so that the quality of the animation would be an eye catcher.
Wavetec's Interactive Touch-Screens Kiosk Installed at Zain
WAVETEC also installed large interactive touch-screens at ZAIN. These displays are used by incoming customers to gather information about ZAIN's upcoming promotions, other services and advertisements. These screens come in various sizes and full interactive processing. The interactive touch-screen displays can be used by a finger allowing maximum comfort for the user. The content is designed and maintained by WAVETEC and can be fully customized based on the customers' specific needs.
Wavetec Full Content Management System for all the Displays
WAVETEC provided ZAIN with an all-encompassing Content Management System with easy to use Graphical User Interfaces for controlling each display. WAVETEC's Media Content Management System is a web-based application that provides the user an easy interface to remotely connect, update and configure different display mediums such as Indoor Plasmas, LED Display Walls and Tickers. It can update media players with videos, graphics and text messages over any IP network. CMS is centrally-controlled web-based software – easily accessible at anytime from anywhere. It provides a very easy to use interface to its users for the creation and management of text, image and video type content. Thanks to Multi-Language support, the customer can compose their content in several languages; all which can be displayed in a way they want. A core requirement in the Kingdom of Saudi Arabia was for all the content to be in English and Arabic. WAVETEC Canvas Designer & Scheduler is a vital design studio component in the WAVETEC IDS Suite. It offers the flexibility to design a variety of canvases with different inputs and playlists. It is thereby a must have for designing and distribution of truly dynamic and innovative content. It has no resolution limitations! One can create canvases of any resolution and add multiple regions within each canvas. Each region can have a different layout and present different media. The WAVETEC Scheduler provides 24/7, reliable and stable playback operation and is scalable to support large networks of players. This enables ZAIN to manage the content in the form of a time-line. It can pre-define what content is to be displayed at what time instead of manually changing it every time. WAVETEC has assisted ZAIN in completely revolutionizing its Customer Care Centers. The choice of EQMS and state of the art LED displays define ZAIN as a technologically leading global Telecom company, always in front of the competition. WAVETEC has helped ZAIN in creating one of a kind Flagships, using its experience and latest technology offerings. These Flagships have defined ZAIN as a company which provides an enhanced customer experience by going the extra mile for its customers. The customer support experience provided by these branches has changed the perception of customers about ZAIN and ZAIN's excellent customer support has become a part of its identity.