ZARA and it's siblings, parented by Inditex, have had a rough but wholly good year. While online orders were up by 74% and almost all stores had reopened by October, new and prolonged lockdown restrictions by Christmas meant 21% of global stores were closed.
Apparel is the hardest hit of the retail sectors of Europe, but Inditex managed to end 2020 with its head well above water. How was this possible?
Business Brawn
Operating on what many have described as a lean business model, Inditex has created a combination of flexible purchasing agreements and a tight supply chain model. Essentially, the above allow for quick changes to orders as suppliers are in close vicinity, they facilitate the management of returns to prevent pile ups in-store and clear the way for lower inventory levels.
The first quarter of 2020 saw the company face their only records loss. Following this, they invested $3 billion in e-commerce, renovations and new stores. All steps seem to be leading in the direction of future success and industry-leading potential. Embracing digitisation, Inditex is still aware of the importance of shopping in-person and has made changes, additions and revisions to customer care and the solutions to improve their experience.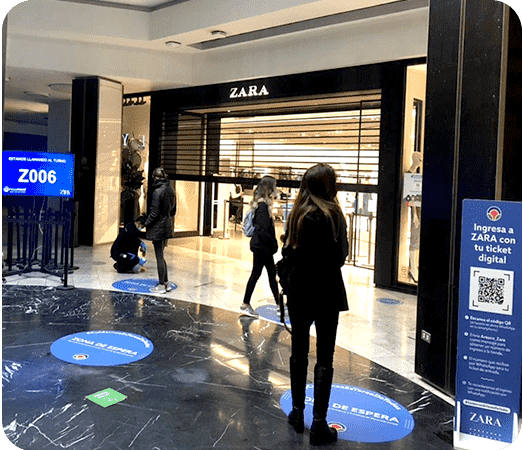 Shopping mall, Chile
The problem lies in the safety of the individual and the staff while retail is in process. Social distancing and occupancy limits must be observed, customer flow must be managed, directional signage must be provided, remote and virtual queueing enabled, returns and pickups made contactless or drive-through.
The ZARA store chose to adopt WhatsApp Queuing. A WhatsApp integrated queuing system allows for customers to scan the QR code provided, and proceed to a chat window – while for others, there exists an option to text a number. They will input a branch code, and be issued an e-ticket.

This marks their place in the queue, guaranteeing that this will be secure as they wait elsewhere. A set of QR code standees and staff deployed nearby in masks and protective gear to assist customers will be present.
Updates on queue status, and other notifications will keep them informed about the situation, as they wait in the comfort of their cars, window shop, eat or even run other errands.
Starting with 20 tickets, to 15 to 10 and so on, notifications make potential customers aware of how much longer till they can be served.

When their turn arrives, the teller will call their number and they will receive a notification. This system also supports priority waiting, for disabled or elderly customers.
To better understand and find out more about WhatsApp queueing,
The Benefits
The benefits of this include optimised resource allocation, including the allocation of staff, reduced wait times with no geographical limitations, a multilingual approach to support tourist commerce and an opportunity to utilise the data you collect daily to inform more prudent business decisions.
This data collection allows corporations like Inditex to study consumer behaviour, their likes and dislikes, how they prefer to shop, their priceless feedback, statistics and peak business hour flow patterns, amongst other aspects. These solutions are part of a complete and holistic package offered by Wavetec.
The customer's experience is of prime importance to any service or product provider, distributor and vendor. From the first interaction to a lasting and loyal relationship, the journey must be mapped, optimised and tailored to the needs of the client. This is what sets the competition and the industry leaders apart.