Wavetec has efficiently improved Telenor Pakistan's customer experience by contributing towards the digitalization of Telenor Pakistan's operations.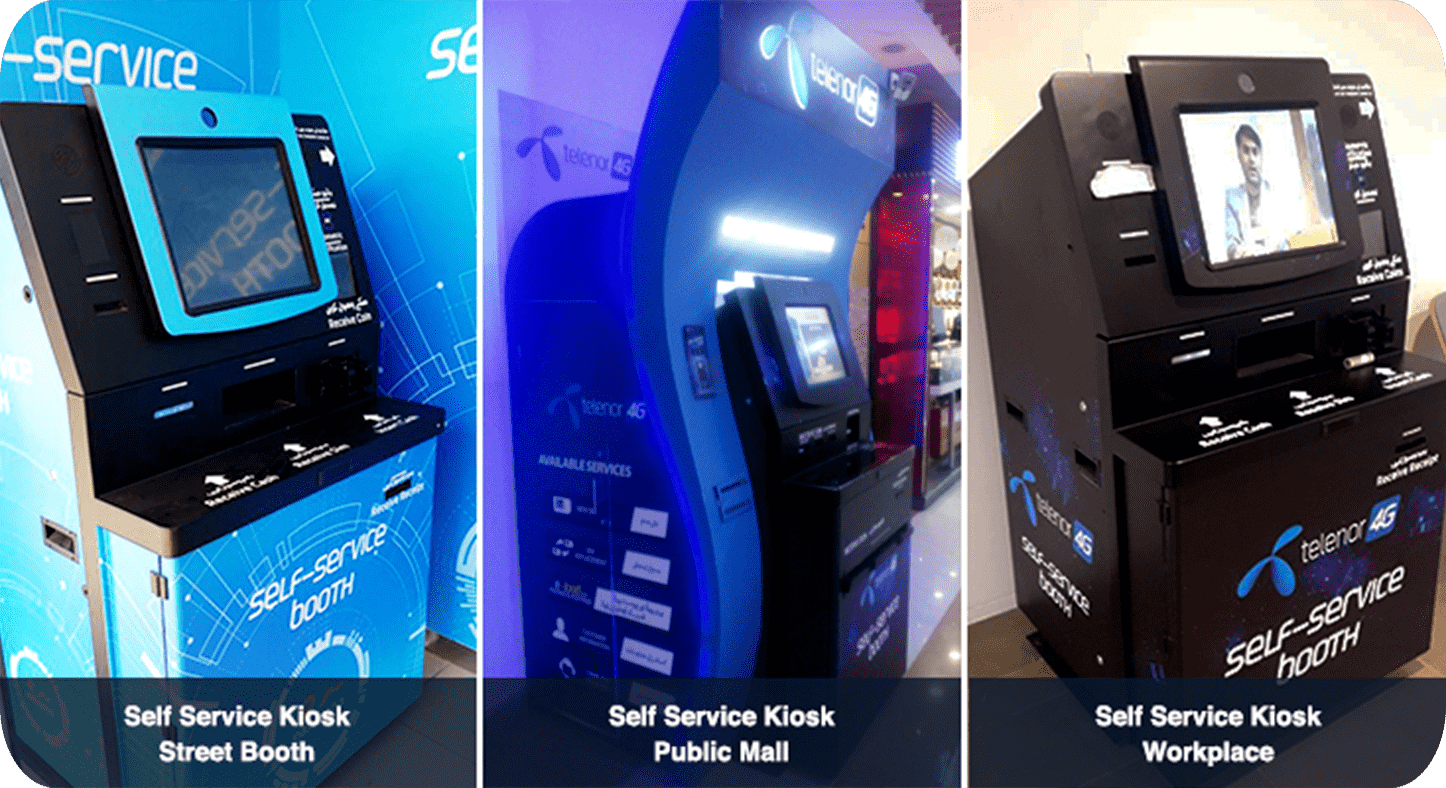 Company Profile
Telenor Group is one of the world's major mobile operators with 176 million subscribers in 12 markets across Scandinavia, Central Eastern Europe, and Asia.
Easy paisa (Mobile Money Wallet) and Telenor Pakistan is one of the largest telecom operators and financial services provider in Pakistan. with a vision to empower societies, Telenor has been connecting the world for more than 160 years.
Challenges/Pain Points
Following are some challenges faced by Telenor Pakistan;
A limited number of franchises and workforce to reach all customers
Inefficient utilization of available resources
Franchises operating only during business hours limiting 24/7 access to sales services
Manual transactions requiring more human resources in franchises and retailers including New/Replacement SIM Issuance, Easy Load Top-ups, Easy Paisa Account Opening, Easypaisa ATM Card Issuance, among other services
Need for improving Cash Management and Operations Management for Easy paisa
Absence of digital services platform for customers, as they had to depend on a physical resource by visiting the franchise to serve them for various transactions like buying a scratch card or top Up easypaisa mobile wallet solution instead of a machine that can instantly serve customers
Improve Customer Satisfaction
Improve Customer Feedback Management
Absence of Real-time data analytics tool to analyze customer feedback
Huge gap between less number of franchises and growing flow of customers at the stores.
Prolonged time for completion of every single transaction due to manually operated transactions
High rate of human errors while serving customers
Heavy cost incurred in maintaining the franchises and workforce
Wavetec Self-Service Telecom Kiosk Solution
Engaging customers, efficiently dealing with their needs, and providing instant services, are all concerns which Telenor had and Wavetec accordingly developed and implemented customized solutions for Telenor to help them optimize the operations and improve the customer experience.
Wavetec designed, manufactured and Installed self-service kiosk for Telenor – A One Stop Solution, due to the fact that these advanced kiosks aim to give customers choice and flexibility to carry out their transactions through a more convenient channel, bridging the gap between online and physical world, providing a complementary channel in branches or off-premise locations. Wavetec singlehandedly installed 10 self-service kiosks for Telenor Pakistan across the country in major cities such as Karachi, Lahore, Islamabad, Faisalabad and Peshawar.
Self-service kiosks offered Telenor a modern modular design with an array of components for custom configurations offering consumers the convenience of bypassing teller lines and quickly completing typical branch transactions, SIM dispensing, duplicate SIM issuance, bill payment, funds transfer, renew SIM, top-up mobile balance, change package plan, cash withdrawal and mobile payments.
These intelligently designed solutions have a variety of amazing features such as cash acceptance, change dispensing, real-time SIM registration and biometric verifications.
Through self-service kiosk, Telenor resolved its major challenge of digitalization and automation concerning their operations and transactions. 90% of the workforce at Telenor was engaged in manual client servicing such as account opening, sim dispensing, cash disbursements etc. thus losing their focus on the parameter of customer satisfaction.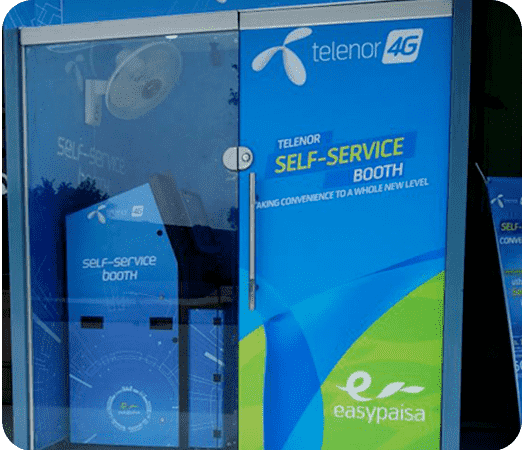 Wavetec has acquired a massive project with Telenor where more than 60 SIM dispensing kiosks will be placed in franchises and public areas.
Benefits Provided to Telenor through Self Service Kiosk
Designed and manufactured emphasizing customer experience at the core, the kiosk features a contemporary design and offer innovative self-service options.
Following are the benefits which Telenor achieved through self-service kiosk;
Reduction in wait & service time
Reduced workforce and operational cost
Overall real-time visibility of cash management of Easypaisa
An easy and convenient way for Easy Paisa customers to perform transactions through digital wallet system
Operational capability to serve customers 24/7
Advanced and intuitive interface for a smoother experience with multiple service options.
Higher customer satisfaction
Increased revenues and productivity
Efficient utilization of resources
Tailored Features of Self Service Kiosk for Telenor
Self-Service kiosk is an efficient and automated solution, built to revolutionize the concept of Telecom service delivery to customers. Easily customizable kiosk with a modular design and functional components to perform a comprehensive set of functions.
Self-Service Kiosk serves a very important aspect of "customer validation" through national ID and biometric verification which authenticates the process and lead towards the smooth flow of secured transactions.
One of the features of the Self-service kiosk is the multilingual property which helped Telenor Pakistan enabling its customer to interact with the kiosk in their desired language. Another beneficial feature for Telenor is the option for bunch cash acceptor where the customer enters bundle of notes into the acceptor and the kiosk takes all the cash itself eliminating the hassle of inserting each note one at a time.
Some of the essential features of self-service kiosk are enlisted below which created a whole new experience for the customers and eliminated the hassle for Telenor concerning manual client servicing which ultimately increased Telenor Pakistan's productivity and revenues.
KEY FEATURES OF SELF-SERVICE KIOSK
Ability to dispense and activate new SIM, renew SIM, top-up mobile balance, change telecom package plan, feedback management, Real-time analytics which helped Telenor inefficient utilization of its resources.
Real-time analytics monitoring resulting in smoother operations
Intimation if the kiosk switches off, Alert generated if kiosk door opens accounting towards assuring security.
Generation of reports aiding in conducting yearly analyses of sales, customer growth, and shortcomings.
Email and SMS alerts generation categorized into Hardware, Inventory, and Software ensuring constant monitoring and subsequent maintenance of the kiosks.
Display of promotional material on the kiosk and Inventory alerts.
Password-protected locked vaults for cash and SIMs with anti-theft alerts
Storage facility of an enormous amount in the kiosk enabling customers to withdraw as much as the amount they need.
The option of placing an order for Telenor's mobile phones and availability of comparison for all the related features of the mobile which contributes towards the successful sale of Telenor's mobile phones.
Secure, monitored, and documented operations management including cash handling and maintenance of the kiosks
Providing cash deposit facility to customers and retailers, a helpline for entertaining customer quires.
Capability to dispense any amount of change through the cash and coin dispenser
Conclusion
Telenor Pakistan's decision to choose Wavetec Self-service Kiosks turned out to be the catalyst in creating one of the most remarkable solutions in the self-service division. This solution has facilitated hundreds of thousands of Telenor's customers across the country. Moreover, it has augmented the quality of customer experience by creating multiple easily accessible customer touch points. Furthermore, Wavetec's business intelligence tools have helped Telenor perform detailed data analytics on the customers' feedback, customer traffic, and kiosk's ease of access.
As more of Telenor's customers approach these self-service booths, the satisfaction rate has risen substantially over the past six months. Because of the extensive effort, Telenor is putting into making each individual customer's experience better, customers have become more loyal to Telenor. Word of mouth has reached customers of other Telco's and Telenor's customer base has grown largely as more people migrate to their network every day.
Wavetec is counted among the global leaders in providing customer experience solutions. It has an impressive and ever-growing product portfolio with leading organizations as its clients. Collaborating with Telenor Pakistan, a Telco with a prominent and powerful presence in the Telecom Sector of Pakistan has proved once again that Wavetec's global prominence is unprecedented in the field of Self-service Kiosks.