United Bank Limited, one of Pakistan's largest banks & a valued name in the banking industry globally. It enjoys a very good reputation amongst banking clients with more than 1,385 branches in Pakistan, and international branches in United States of America, Qatar, UAE, Bahrain, and Republic of Yemen.
Branch Transformation Solutions
UBL's relationship with Wavetec dates back a decade, when Wavetec deployed innovative queue management systems at its 291 branches in 2007. UBL tackled challenges such as huge customer footfall, large queues and long waiting times across its branch network, and decided to resolve the challenges with Wavetec's Branch Transformation Solution.
With a customer base of over 4 million, UBL leads the banking and financial services sector in Pakistan. Gauging the customer experience trends and the increasing shift of consumers towards digital technologies, UBL realized the need to transform its branches with advanced digital banking technologies.
Queue Management System
The Branch Transformation Solution is an innovative setup of queue management system for the banking sector which enabled UBL's management to organize the customer flow across 291 branches all over the country and manage customer journey efficiently.

Mr. Neeam Bashir Ahmad-Head of International inaugurating the solution at one of the branches.
The Queue Management system covers Tellers and Branch sales & service counters, monitors and manages branch incoming traffic and records it by the type of product service or transaction for which customers visit the branch. In addition, it helps track volumes, workloads, wait time and peak servicing periods. This information is further used to improve customer experience and resource allocation.
The 291 branches are further divided into 4 clusters (Central North, Central South, North & South) and 21 regions. In total there are 1100 counters issuing up to 50,000 tickets daily. Customers take a ticket from the Ticket Dispensing Kiosk and wait for their turn according to the ticket numbers shown on the displays.
Digital Signage
LCD Counter Display followed by integrated digital signage solution is also installed at each branch allowing users to easily keep track of their turn.
In addition to the above, few branches are also equipped with a 55" Central Queue display which showcases token numbers with a dedicated space to display product information, official notices and other digital marketing material. This section of the screen will be managed, updated and controlled by Service & Quality Department from a centralized location for all branches.
Video walls are also installed at UBL's Branch of the Future to deliver superior and engaging customer experience.

Vertical Display showing updated queuing information
Customer Feedback
Customer feedback units have also been installed at high traffic branches.
These tablets have on display 3 scale customer experience ratings, and customers are required to select their desired option, on completion of each interaction. This helps in capturing on spot customer feedback, which is then used for service improvement. This is monitored centrally by Service & Quality Department.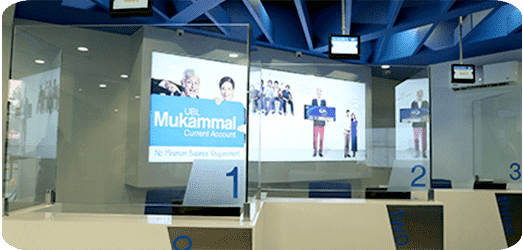 LCD based teller displays at Teller Counters
Live Dashboards and Reports
The turnkey queuing system designed and deployed by Wavetec has advanced manager Dashboards & live reports for extracting comprehensive insights in terms of customer flows, staff performance, service area efficiency and Customer Journey Mapping.
All 291 UBL branches are monitored in real-time using Wavetec's central reporting system. There is a dedicated team at UBL Head Office for tracking and managing country-wide branch performance, and ensuring branch vitals are maintained using Wavetec's Dashboards, Reports and Business Intelligence tools.
Key variables tracked
Average Waiting Time
Average Service Time
Transaction accuracy
Teller punctuality
The key variables that are closely monitored are Average Waiting Time and Average Service Time as well as Transaction Accuracy and Teller Punctuality which impact the Scorecard of each branch consequently. Furthermore, Wavetec's live reports are used by the bank's management to understand the daily traffic patterns and the extracted data is then used to perform analyses and predict future traffic in high performing branches.
Moreover, Teller reports are also daily monitored. In case, there are few tellers at a branch, a request is sent to the central team, and more tellers are assigned to a branch to efficiently manage the customer traffic. As the management monitors customer footfall using live reports, if traffic increases, more counters are opened at a branch on real-time basis.
Branch of the Future
True to its progressive and innovative brand attributes, UBL is the first commercial bank in Pakistan to provide its customers with state-of-the-art facilities embedded with a cutting-edge modern design in a collaborative partnership with Wavetec.
UBL launched a first of its kind BOTF (Branch of the Future) in Pakistan, managed with an advanced queuing system, a vibrant 46 inch, 3×2 Video wall that plays corporate videos, vertical 40 inch wall-embedded signage displays that display the ticket and counter numbers while running an SBP video, and has an exclusive net-banking area.

Video Wall and Vertical Displays showing promotional videos
This BOTF is the first among many that UBL plans to launch within the country by the end of 2017. The upgraded branches would help UBL deliver wow experiences and carve its way into the future.
Results
UBL branches with Wavetec's solutions experience higher customer satisfaction and as a result experience more deposits. With latest technologies, immersive displays and seamless customer flow, waits are organized, seating capacity is optimally utilized, serving process is more transparent, and customer complaints have drastically declined, resulting in increased customer satisfaction and a stronger brand image over the years.