About Takaful Al Rajhi
Al-Rajhi Takaful is one of the leading insurance companies in Saudi Arabia providing Shariah compliant Takaful solutions for individuals, families and companies and it is also one of the largest economic institutions and owns the largest bank with over 1000 branches in the Kingdom.
Wavetec transformed customer journey at 5 major branches of Al Rajhi Group in Riyadh, Khobar, Jeddah, Jezan and Khamis Meshist with an advanced virtual queue management system that has increased customer satisfaction, curtailed waiting times, and improved customer service efficiency.

Challenges
Facing an average customer footfall 250 to 300 customers per day, the company wanted to improve customer service, and organize its in-branch work flows, along with managing appointments efficiently. Al Rajhi Group sought to empower its customers to always be informed of waiting times and when they could be served. Taking into account the demands of their clientele and realizing the need to improve the branch experience, Al Rajhi Group wanted to implement an in-branch customer journey management solution.
AL Rajhi's existing system was expensive and lacked advanced features; hence, the Group wanted a robust and durable solution to efficiently carry out customer flow management functions at its major branches and enable bank management to centrally monitor the service status at all times.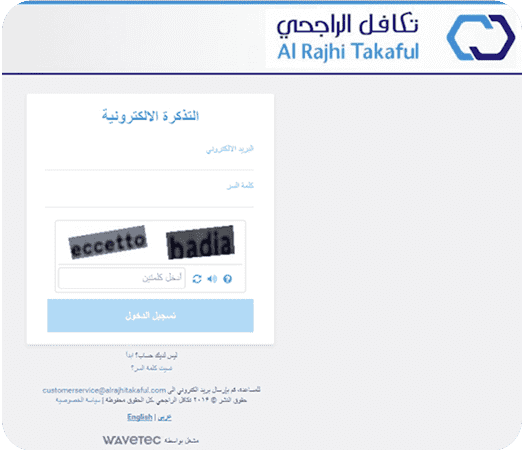 Solution
After performing site visits of the branches to understand the customer journey patterns and analyze waiting times, Wavetec proposed "Atlas" – its holistic customer experience management solution to Al Rajhi Group. The group chose Wavetec considering Wavetec's impressive experience of delivering top quality solutions to banking clients across the globe and our repute in the domain of queuing systems.
Atlas features an intelligent queue management system to organize customer flow, digital displays that show ticket number and counter number to update customers about the queue status; an integrated customer feedback system; and real-time reporting solution with manager dashboards and statistical reports.
Wavetec's touchscreen Ticketing kiosk allows citizens to take a service ticket for the desired service categories:
Own damage
Third party
Cheque
Citizens can also take an appointment or book a slot via mobile app or website.
Wavetec developed a customized mobile app to enable customers of Al Rajhi Takaful's Riyadh branch to take a service ticket for a specific time slot using the mobile app and arrive at the branch accordingly.
The online web appointment module was also custom-developed and integrated with the queuing system to allow added convenience of taking a ticket using the bank's website.
Once customers arrive at the branch and register their presence via the self-service ticketing kiosk, they keep a track of the queuing statuses on the Counter Displays and 42 inch LCD, while the serving staff uses Teller Station Units to control the workflow and call the next customer for service at the counter.
After being served, customers share their feedback using Opinion Plus tablet, which helps the bank measure customer satisfaction promptly.
In order to keep a track on customer service at the five branches, and monitor waiting times, Al Rajhi Takaful used Wavetec's Advanced Reporting Portal – Spectra, which generates detailed reports about waiting times, customer flow at peak hours, serving times etc. allowing the management to ensure optimum customer service at its major branches.
Results
The implementation of the Customer Experience management solution resulted in:
Shorter queues
reduced waiting anxiety
Improved staff productivity
Increased customer satisfaction
Previously, the waiting time averaged around 1.5 to to 2 hours; the installation of the system has reduced the waiting time to 30 minutes, which is a substantial figure and has resulted in an increase in customer satisfaction consequently.
Al Rajhi Group was pleased with Wavetec's cost-effective, high-quality solution provided along with excellent technical support and reliable after-sales service that was deployed in a record time of two days as per the bank's timelines. The management now has information about how branches score on different performance metrics which it uses to make strategic decisions in order to ensure customer service excellence.