About EuroAmérica
EuroAmérica was founded in 1900 as a leading life insurance company. Today, with more than 110 years of experience in the Chilean market, present from Arica to Punta Arenas, it has positioned itself as one of the major non-banking financial services company, consisting of five companies (Seguros de Vida S.A., Corredores de Bolsa S.A, Administradora General de Fondos S.A, Servicios Financieros S.A, Corredores de Bolsa Productos S.A). More than 50,000 customers place their trust in the investment solutions, protection, saving and financing offered by the company's 19 branches throughout the country.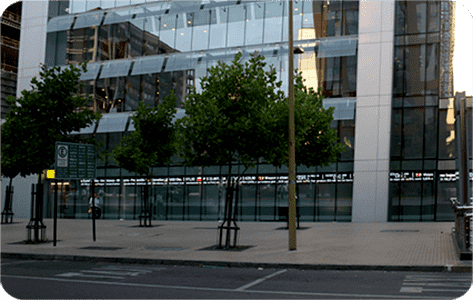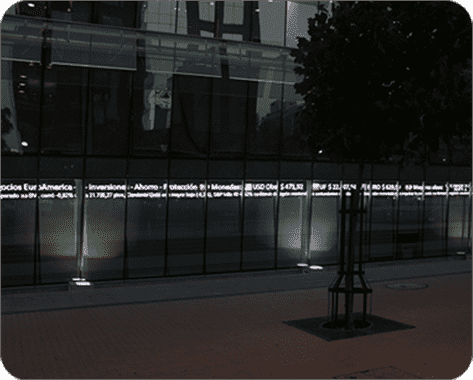 Project requirements
According to its corporate philosophy, the company constantly strives to deliver an easy service experience to its customers, by providing clear and simple products that are critical for the decision making process. Having real time updated information was a key factor for this company, as well as the possibility to reinforce the visual impact and the strategic position of the company in the social environment. For this specific need, Wavetec devised the solution to install a LED Ticker outside the headquarters building located in Santiago de Chile. In addition to the aesthetic impact, a Ticker which covered the entire building's perimeter, represented a substantial commitment towards innovation and the dissemination of information. Thus, Wavetec's solution was a perfect fit for the company's requirements.
Our Solution
The project was to cover the total perimeter of EuroAmérica's headquarters, and handle the design, production and installation of a full color LED Ticker. It is 90 meters long and 48 centimeters high, capable of broadcasting financial information in real time, such as: the value of the Chile's UF (Unidad de Fomento), foreign exchange quotes, the percentage of increasing and decreasing shares, and the latest financial news, etc. The installed solution was made by a special light values LED, to perform well with continued exposure to sunlight. Moreover, the project includes the Donatello software solution, which provides management and operational autonomy and allows the Ticker to switch on and off at a particular schedule with continuous information updates in real time, among other functionalities.
Our experience
Wavetec is a global player in the sphere of LED Display Solutions for the financial market. Innovating since 1986, the company's headquarters is located in Dubai Silicon Oasis, United Arab Emirates. Wavetec has spread all over the world, with regional offices in: Barcelona, Karachi, Lima, London, Nairobi, Riyadh and Santiago, with a distribution network over 70 countries.