About BCI Bank Academy
Leadership is a strategic imperative for BCI, Chile's prestigious bank, which has over 300 branches across the country. It is important to develop institutional leadership in a comprehensive and sustainable way to improve performance, and business health of an organization. In order to train leaders who guide the corporation, the BCI Bank Academy was launched in 2008 that started with the participation of almost a hundred of managers and since then, it has continued to grow. On the constant innovation premise, BCI Bank Academy implemented Wavetec's Digital Signage solutions its headquarters' in Santiago de Chile to renovate the designed place for employees' training.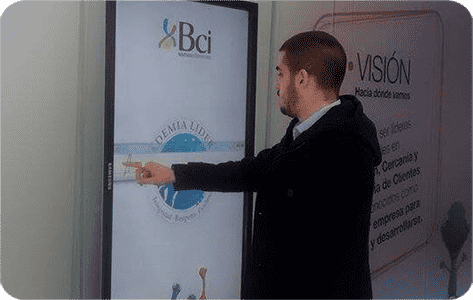 Project requirements
It is a daily challenge for BCI Bank Academy to promote corporate values and disseminate the BCI leadership culture and attributes in the daily routine of the company, to develop a distinctive and unique leadership style that can help the bank gain competitive advantage and drive growth. BCI bank Academy looks forward to stimulating leadership in each of its employees on a daily basis, hence training; collaborative work and exchange are essential, along with the required facilities and conducive technology to achieve it. With this view, BCI Academy contacted Wavetec to inquire ways to make a training floor – where lectures and seminars can conducted in an interactive manner, and where the bank's history can be represented in a dynamic and interesting style.
BCI Academy had specific technological demands, and felt the need to add Digital Signage solutions at the Head Office for centralized management, that could be versatile and self-sufficient to allow its employees to modify and update the canvas data displayed on the installed displays at the head office on 10th floor.
Wavetec solutions
According BCI Bank Academy's specific needs, Wavetec proposed installing several Digital Signage Solutions to dynamically and harmoniously adapt to the project's requirements. When stepping onto the Bank Academy's 10th floor, employees see a 4×1 Video Wall, consisting of four 46" professional displays with 5mm thick frames, where daily and weekly activities and time schedule can be viewed.
Wavetec's solution allows this information to be updated by the BCI Bank's employees when required. An entire wall displays a large timeline graphic, which presents the bank's history in a creative and illustrative way. Moreover, Wavetec proposed installing an ultra short-throw projector to screen media content at a distance of 11.8 inches from the wall, and with a projection size of 100 inches. This installation will broadcast the ongoing projects and people involved with BCI Bank in the form of changeable content on a daily basis.
In order to improve BCI Bank Academy's operations through technology, and to create interaction between employees and trainees, Wavetec installed two 55-inch touch displays to enable management to get an easy and direct access to feedback from those attending BCI Bank Academy. Thus, employees can digitally type their comments and opinions about the training experience on each screen.
Finally, Wavetec installed three professional 40" displays for continuous use, all across the 10th floor, where a combination of media content are broadcast such as the Bank's corporate channel. Due to the Academy's specific need, the Digital Signage solution is centrally managed by Wavetec's Donatello Suite software, which refers to specialized technical support service that remains attentive to Academia BCI's demands.
Our experience
Wavetec has a track record of providing robust solutions aimed at building valuable experiences within the service area, for customers and organizations.
Wavetec's digital signage, queue management systems, and experience measurement systems provide comprehensive solutions tailored to meet different client's needs from over 70 countries in a variety of industries such as: retail, banking, healthcare, and airlines, among others. High quality solutions and technological innovation standards have paved the way for Wavetec's work on solid projects for companies such as Chile's BCI Bank, Interbank, Barclays, Emirates Airlines, Tesco, and LIDL Germany.