EGADE Business School is the graduate business school of Tecnológico de Monterrey, a university recognized throughout Mexico and Latin America for the development of entrepreneurial and globally competitive leaders who create and sustain value.
Project Requirements
EGADE Business School required a turnkey solution to create the environment of a mock stock trading floor at its Financial Lab for students studying Finance. The use of visual aids and interactive displays in educational institutes is becoming a fundamental aspect of imparting education and explaining new concepts to students. As a part of EGADE Business School's commitment to innovation and its mission to develop internationally competitive business leaders, EGADE wanted to invest in financial displays to provide the best educational environment to its students.
Our Solution
By creating a mock stock trading environment in its financial Lab, EGADE wanted to impart a sound understanding of the financial industry with a practical approach. The Financial Lab at EGADE will enable students to apply their information of the finance field to the online, real-time trading data showing on the screen and learn the mechanics of trading.
Wavetec installed a 32m long ticker at the Financial Lab of EGADE Business School to create an environment of a trading floor in the financial lab. The 32m * 26 cm ticker, with a resolution of 7872*64 pixels, bordering the walls of the lab is integrated with Thompson Reuters feed, and disseminates real-time financial information to students allowing them to experience and learn how stock markets operate.
On the successful installation of the ticker, German Martinez, Regional Manager Wavetec, in Latin America said,
"Wavetec specializes in providing turnkey LED display solutions to financial markets and institutions; we are pleased to partner with EGADE Business School as this venture will contribute towards creating a practical Financial Lab, and make learning interesting."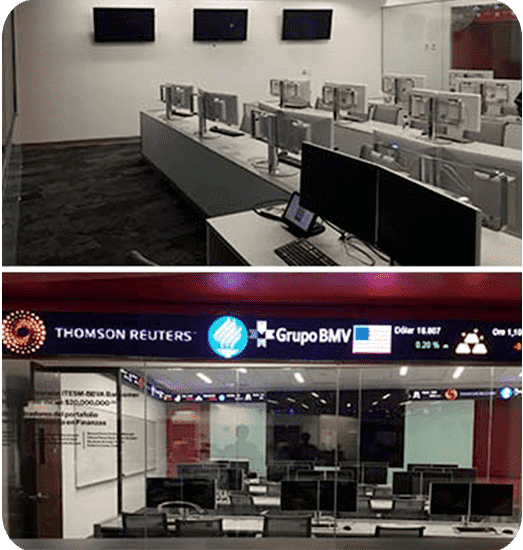 Wavetec's Experience
Wavetec has provided financial market displays to 25 stock exchanges in Barcelona, Chile, Mexico, Qatar, Bahrain, Saudi Arabia, Oman, Dubai, Nigeria and Kenya etc. and continues to provide financial market displays to educational institutions and markets to improve transparency and dissemination of financial information. With years of experience, Wavetec has also developed a virtual stock market simulation game that is linked to a live stock exchange feed where a user can trade real stocks using virtual money the same way one would trade real stocks using actual money with a genuine online brokerage account.
Wavetec stands at the forefront of LED Solutions and using its technological innovation, customization capability and innovative infrastructure development solutions, it has helped EGADE develop an interactive and interesting Financial Lab for its students.
Find our LED Displays solutions for the financial market here.