---
Informationsdisplaysystem
Wavetec High-End-Donatello Suite ermöglicht die Steuerung von Informationen an die LED-Displays. Diese Lösung besteht aus einer Content Management Software (CMS), sowie einem Canvas Designer und Planer. Dieses dynamische digitale Medium ist ein leistungsfähiges Werkzeug, um Daten in Echtzeit zu liefern.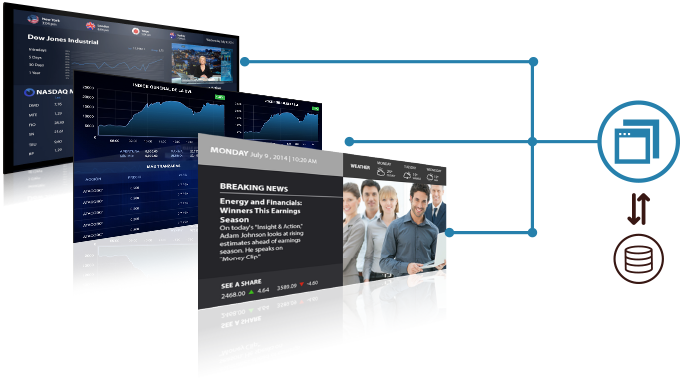 ---
Dynamische Widgets
---

---
Benutzervewaltung-Optionen
---

---
Live-Überwachungsfunktionen
---

---
Inhaltsgruppierung & Planung
---

---
Ausgestattet mit Wavetec Canvas Designer & Planer
---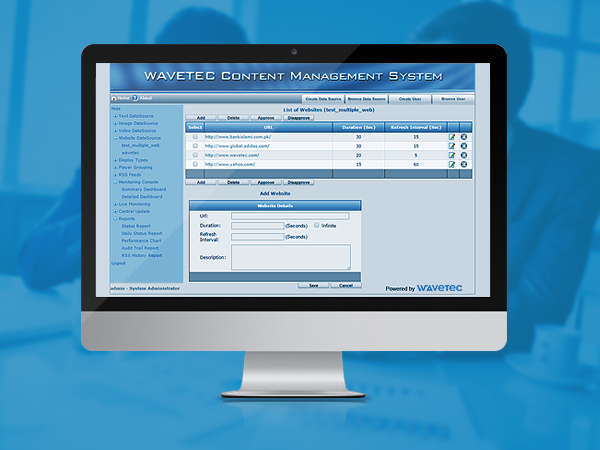 Dieses Web-basierte Content Management System verbindet sich mit Wavetec CMS-Datenbank. Diese Verbindung ermöglicht die Erstellung und Verwaltung von sowohl Inhalten als auch von Datenquellen. Es rationalisiert den gesamten Prozess, verbindet die Punkte, damit die Eingabe und Ausgabe zusammenwirken.
---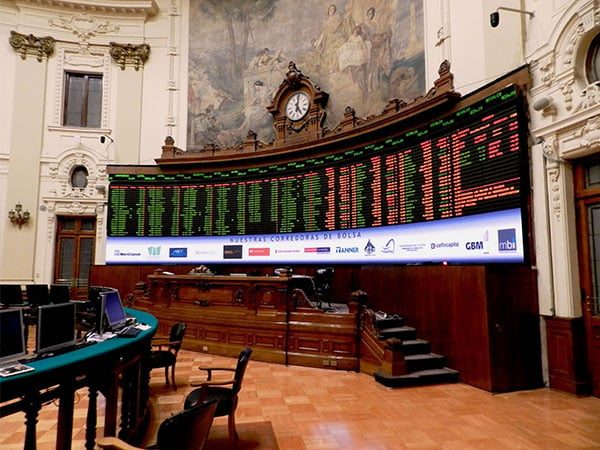 Web-basierte LED-Informationslösungen verwalten das Scrollen von Nachrichten, Finanzdaten und Bildern. Die Verwaltung der LED-Ticker-Displays über das Internet hat den zusätzlichen Vorteil, dass auf die Displays von jedem Computer weltweit zugegriffen werden kann.
---
Laden Sie unsere Broschüre über Informationsdisplaysystem herunter, um mehr zu erfahren
Unsere Informationsdisplaysysteme geben Ihnen enorme Kontrolle über die Informationen, die Ihre Kunden erreichen. Sie können aus einem Sortiment von Optionen wählen, um dem Inhalt, den Sie anzeigen möchten, den perfekten Look zu geben.
Wavetec offers a complete range of display solutions which are ideal for advertising,retail and branding. HD Series, PRO Series and Prime Series are premium product lines offering solutions for both Indoor LED and Outdoor LED displaying applications.
[pw_vc_carousel pw_query="size:All|order_by:date|order:DESC|post_type:portfolio|tax_query:100″ pw_link_target="_self" pw_post_layout="horizontal_carousel" pw_skin_type="pl-gridskin-two" pw_grid_skin_effect="pl-gst-effect-3″ pw_teasr_layout_img="title,image,text" pw_excerpt_length="300″ pw_hide_date="" pw_carousel_pre_view="3″ pw_image_effect="none" pw_show_zoom_icon="" pw_show_link_icon="" pw_icon_type="none" pw_icon_effect="none" pw_title_font_family="inherit" pw_meta_font_family="inherit" pw_excerpt_font_family="inherit" pw_excerpt_font_size="14″ pw_readmore_type="pl-permalink" pw_speed="4000″ pw_slider_hide_pagination_control="yes" pw_slider_hide_prev_next_buttons="" pw_slider_loop="" pw_image_thumb_size="350×200″ pw_carousel_slide_width="1206″ pw_carousel_min_slides="3″ pw_title_font_size="20″ pw_readmore_translate="Read More" pw_show_overlay=""]