Deyaar is one of Dubai's largest real estate ventures which spans across Dubai Marina, Al Barsha, DIFC, Jumeirah Lake Towers, IMPZ, Dubai Silicon Oasis and TECOM. The business holds a huge portfolio of prime residential and commercial development projects, both in Dubai and International markets. Deyaar's international footprint has expanded over Lebanon, Turkey, the United States and the United Kingdom, with upcoming expansions into Saudi Arabia, Qatar and India. Deyaar specializes in Property Development, Property Management, Facilities Management and Owners' Association Management, thus making it a powerhouse of providing real estate services under one roof.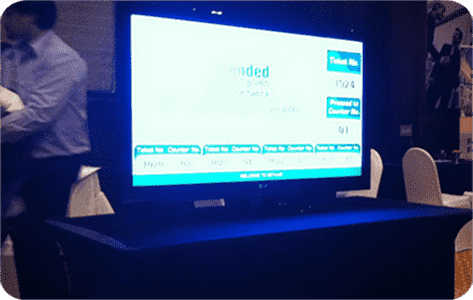 Project Requirements
Deyaar being a real estate giant, frequently hosts informational and investor relation events to attract customers. Since these events attract a huge influx of customers, Deyaar faced many problems managing the flow of customers, thus resulting in dissatisfied customers. For every company it is essential to manage and uplift their customer's experience, especially when there is no formal queuing system in place.
Our Solution
After several meetings between Wavetec's Customer Experience consultants, Deyaar and their event management team, Wavetec designed a customized mechanism to control and manage crowd. Touchscreen kiosks, Counter display Units and Donatello Digital Signage solutions were incorporated to inform, navigate and transform the customer journey during the event. Prior to the adoption of queuing system, visitors were entertained on ad hoc basis by company representatives thus creating a lot of unpleasant experiences during the event.
After the incorporation of queuing system at Deyaar, the visitor goes through a completely transformed experience. Every visitor after being registered at the event is issued a ticket number based on their service preference, from any of the 3 available Ticket Dispenser Units. Once the ticket is issued the visitor waits for his turn and can enjoy the other aspects of the event. As his turn approaches, his number is called and is also displayed on the LCD and counter display unit so he is directed to the right Deyaar Representative. Wavetec's solution enabled Deyaar to entertain their visitors in an orderly fashion by incorporating clear signage and display solutions coupled with ticketing kiosks. This allowed the attendees to feel less stressed. The first project was initiated at Deyaar's Metropolitan Branch located in Business Bay, Dubai which grabbed great attention and praise from both the management and the visitors. Since then this has been a working model for every event organized by Deyaar and 5 ticket dispensing units are used.
One of the senior Deyaar official commented
"Deyaar always achieve its targets since we offer really attractive prices to our investors but, we always have to extend our events as we are unable to serve all the customers in the limited time frame. With Wavetec's Queue Management System we achieved our targets on time."
With Wavetec's Queue Management Systems, companies are now able to provide a clear and visible flow for their customer's thus reducing uncertainly as to where and how to queue.
Our Experience
Wavetec being a global player in the sphere of Queue Management Solutions holds an extensive experience. With successful queue management systems installed in over 40 leading banks, Wavetec now stands at the forefront of EQMS and integration services. Our management systems of queues, digital signage and consumer's feedback measurements are located in different regions with applications in various areas and industries like hospitals, retail and banks. Some examples of our facilities can be found on the Banco de Crédito e Inversiones (BCI) Chile, Barclays, Emirates Airlines, Tesco, LIDL Germany and Chilexpress.