General Insurance Company founded in 1960 recently celebrated its 50 years commitment to Insurance. The Insurance Company maintains a network of 34 branches present across the globe. The strong asset base and a diverse portfolio allow the Company to be the leading insurer in the industry. AICL meets customer needs by providing innovative solutions with their varied line of products delivering value experience to customers.
The Need of Our Systems
Being one of the oldest Insurance Companies AICL knows that sometimes things go wrong and AICL really values the customer feedback in such circumstances. They wanted to know when the customers are not happy with the products and services so that the staff at AICL has the opportunity to put it right and help the company improve the services for all their customers. We at Wavetec realize that Insurance Companies work in an environment where the customers whom they are dealing with are in sensitive situations like in cases of hazards, emergencies, bankruptcies and other unpleasant events. It is highly necessary that the customers are treated fairly and the staff tries the level best to resolve the customer's complaints whenever customers contact them. AICL strives to provide its customers maximum humility and integrity, and a fun filled work environment for its staff member. Wavetec's Queue Management System provides top end solutions to achieve their vision and core values.

What we provided
Like all other clients the Wavetec Team closely observed and monitored the customer flow situation at the UAE Branch of Adamjee Insurance Company. Considering the need of AICL, Wavetec provided a well suited combination of a Ticket Dispensing Unit (TDU) Lite to assist the customers at the arrival point. 6 Counter Display Units with Software based Teller Station Units. Furthermore Wavetec provides media controllers which converted their LCD TVs into a Status Display Unit which shows live transmission along with the queuing information, providing a cutting edge comfort experience to the customers of AICL.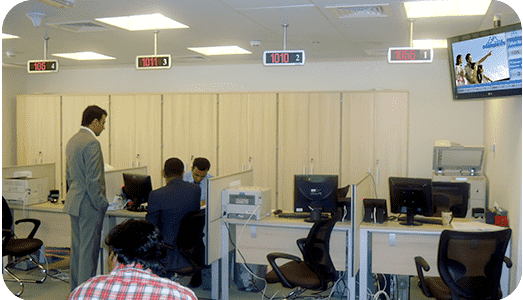 One Solution with Endless possibilities Creating a Dynamic Business Environment
Wavetec's Queue Management System can facilitate Data base Integration of all types of Customer Data Bases or Service Track Records with our System. The front office staff at AICL is now well aware of the customer situation and most possible requirements before the customer actually turns up to the counter. The staff is now much more efficient and can meet customer needs by providing innovative solutions with their varied line of products. This allows the staff to serve each customer with a personalized and well balance serving attitude.
Delivering Value to Customers
AICL offers a broad class and category of various businesses. This diversity of AICL's portfolio allows the Company to be the insurer of choice, for an array of clients and needs. Whilst expanding their customer base, AICL dedicates much effort in maintaining the highest level of customer satisfaction. For this reason the company wanted to assure that the staff works with maximum efficiency and the work responsibility is fairly distributed among all members. The customized Staff Performance Reports can help AICL to identify the weak areas and subsequently take measures to improve them.
Premium Quality with Profits
With Wavtec's Queue Management System staff members at the branch offices can strengthen their bonding with the customers and keep them intact with the company as loyal customers. The staff is able to leverage from this unique superior service experience, as a result of which the customers are always hesitant in switching there Insurer.
Increased Footfall of Customers
The insurance industry has a unique chain of customers as compared to the trends in other industries. It is true that the new customers are very cautious before committing to any insurance providers. Unlike to this situation with Wavetec's QMS the staff at AICL can provide unmatchable service experience and satisfaction levels to its customers like never before. A large percentage of customers are more likely to generate better business by bringing in new referrals from among their families, friends and other relatives. Therefore we proudly say that our systems pay back much lucrative returns then investing in any other business development projects.
Achieve Competitive Targets
With such a large number of branches, serving across the country AICL needed to ensure that all branches are working on optimum levels of efficiency. It is difficult for the management to ensure that the work standards and routine targets are being achieved across all branches. Wavtec's Real Time Monitoring and report generation facility can help the management to keep a vigilant peek on branch performance of different regions from central location, mainly the Head Office or any other remote location.
Efficiency with Reduced Waiting and Zero Queues
AICL serves a diverse group of customers from individuals to Top end Corporate Clients and Entities. It is highly imperative that the customer serving is flawless and customers visiting the branch offices are comfortable and relaxed right from the point they enter the branch up till the point where they leave the premises. Wavetec's Software based Teller Station Units help staff to call forward the customer as soon as they are free and can provide personal and individual time to every customer. The stress of physical queues standing right in front of the staff has been taken away by Wavetec's Queue Management System.
Customer Experience
The 2 Plasmas integrated with our Digital Signage Solution also display Waiting and Queuing information. With virtual queuing, now AICL customers can sit down in a comfortable waiting area, while waiting for their turn. The perceived waiting time is actually much less than the actual waiting time, which definitely makes the customer even better-off.